Anagram Releases a New Version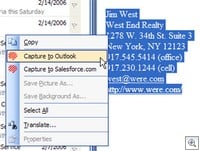 There is a new version of Anagram that has just been released. If you enter a lot of contact info into your PIM from emails its promise to make your life easier with a Tablet PC seem to be quite real. Anagram allows you to grab information (like contacts) and enter them directly into Outlook, Salesforce, NetSuite, or Palm Desktop using your stylus.
I have to admit I've never tried the software but I know that fellow Tablet PC MVP Marc Orchant has been a big fan of it for quite some time. (Check out his thoughts about it here.) I'll be giving it a once over soon and reporting back. I also imagine one of the GBM Guys will be doing an Inkshow on this soon. In the meantime, check it out for yourself here and you can view a video demo of it in action. The new version does work with Vista and Outlook 2007.
There is a generous 45 Day Trial and the cost of the software is $29.95 and there are different pricing levels if you use it on multiple comptuers.

As an Amazon Associate I earn from qualifying purchases.