Analyst: iPad 2 Completely Sold Out, 70% Buyers Are New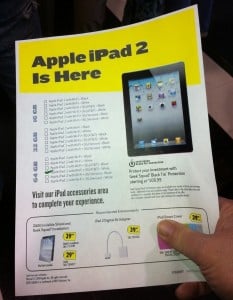 Piper Jaffrey analyst Gene Munster maintains his estimate that approximately 400,000-500,000 iPad 2 tablets were sold this launch weekend. Munster says that of those sold, 70% of Apple's second generation tablets were sold to new customers who did not previously own a first-generation iPad, meaning that only 30% of customers were repeat buyers. The survey conducted by Piper Jaffrey also reveals some other interesting numbers, which goes to show that Apple is maintaining its leadership in the tablet market.
For instance, unlike the iPad 1, which had sold 300,000 throughout the entire launch weekend, the iPad 2 was sold out in a day. According to the results, "stocks were essentially depleted by Saturday and not replenished."
Apple also managed to pull in more PC users into the tablet craze with the iPad 2. With the iPad 1, adoption was 74%/26% between Mac and PC users respectively. With the iPad 2, the distribution is more even with a 51%/49% split between Mac and PC users.
As a result of the survey, Munster concludes:
"We believe this shows Apple is expanding its base of iPad users, which is critical to maintaining its early lead in the growing tablet market. As the user base grows Apple's lead widens, and the company has a proven track record of building unmatched brand loyalty, which we believe will be a potent combination as the tablet market evolves."
With Apple declaring 2010 the year of the iPad 1, 2011 may very well be the year of the iPad 2 if Apple can maintain and sustain its momentum from this launch weekend.
Via: Fortune

As an Amazon Associate I earn from qualifying purchases.