Analyst Predicts Microsoft's Surface Tablet Will Be Just Another Zune
Though Microsoft has not yet made its Surface hardware available until the next version of Windows launches in October, a lot of attention is being placed on Microsoft's foray into the tablet hardware business. When the company debuted the Surface tablet to media, the clean design and innovative keyboard smart cover won praise from the media. However, one analyst isn't too sure that the Surface will be a success for Microsoft.
Canalys analyst Tim Coulling told Information Week that pricing will be a huge factor for the Surface to succeed, and Coulling doesn't foresee the Surface to be priced competitively enough to attract consumers.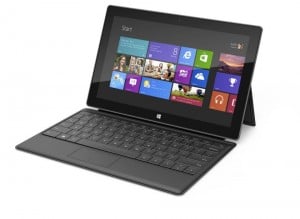 "The information available to date suggests the prices of both will be too high to capture significant market share, and a direct sales approach will prove inadequate," said Tim Coulling.
When Microsoft had announced the Surface, it had stated that the device would be 'competitively priced,' though the company refused to give specifics. More recently, through a leaked importer computer screen, the Surface was rumored to be priced at $1,000, or roughly double the entry price of Apple's iPad tablet.
Coulling says that the Surface may have as much impact on the PC industry as the Zune did in the PMP market. Zune was created by Microsoft to challenge the iPod after hardware partners failed to make any device that posed any significant threat to Apple's market share for music players.
Microsoft says that the Windows RT version of the Surface will launch first. That model will run on ARM processor rather than Intel architecture. In the past, we've heard that licensing fee for Windows RT to hardware partners may be as high as $85. That price could inflate the price for rival Windows RT tablets.
It really is too early to tell if the Surface will be the next Zune, but for the Surface and any Windows RT challenger to enter the market, those devices will have to compete on price against Apple's market-leading iPad.
Since the iPad launched, the Amazon Kindle Fire and the Google Nexus 7 tablet have proven to be worthy contenders. Those devices have a 7-inch display and a much lower $200 entry price point. Microsoft may need to price its entry between that price and the entry level iPad price to gain consumer attention.
Right now, though, at least Apple co-founder Steve Wozniak seems attentive to the Surface's positive attributes.

As an Amazon Associate I earn from qualifying purchases.