Analysts Predict Apple Sold 33 Million iPhones, 14 Million iPads in Q1 2012 (AAPL)
Apple will announce the results of the company's first quarter of 2012 tomorrow afternoon right as the stock market closes on the East coast.
This is an important quarter for Apple (AAPL) as it marks several firsts. This is the first quarter without Steve Jobs at the helm in some capacity, the first quarter of iPhone 4S sales and the first time that the company has offered an iPhone for free.
Investors are also curious to see how the company performs given Apple had lower than expected iPhone sales in last quarter of 2011.
We won't have the final numbers for another day, but analysts have been freely sharing predictions of Apple's first quarter performance. Fortune has rounded up a collection of Apple whisper numbers, coming up with an interesting collection estimates for Apple's performance.
The most interesting Apple whisper numbers are the number of devices sold and the high gross margin estimate for Apple's first quarter. Check out the best guess based on an average of six analyst numbers.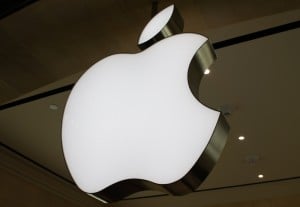 Estimated Apple (AAPL) Q1 2012 Performance:
iPhones Sold – 33.02 Million
iPods Sold – 15.47 Million
iPads Sold – 14.26 Million
Gross Margin – 42.4%
If these numbers are true, Investors will be happy to see that Apple sold over 30 million iPhones in the first quarter of 2012. The iPad would mark a 4 million iPad increase over last quarter, good news considering the increased competition of low-cost tablets like the Kindle Fire and the Nook Tablet. Perhaps the most surprising increase in sales is the 15 million iPods sold in the first quarter, which is almost 10 million more than the final quarter of 2011.
The really exciting number for those of you who want to know how well the company is doing is the high gross margin, which is expected to arrive around 42%. This is nearly double that of Dell, HP and Amazon. You can see past performance of Gross margin in the chart below.
Apple is holding an earnings call at 2 PM Pacific, 5PM Eastern tomorrow, and will be publishing an earning's release around 4:30 Eastern on Tuesday January 24th.

As an Amazon Associate I earn from qualifying purchases.