Android 4.0 for Droid RAZR, RAZR MAXX and Droid 4 Screens Leaked
All of Motorola's latest smartphones, like the RAZR, RAZR MAXX and Droid 4 have launched with Android 2.3, lacking the latest and greatest Android 4.0 software.
Motorola released a list of Android 4.0 updates last week, but out favorite Verizon Motorola smartphones were missing from the list, with a promise of details in the future.
Motorola has blamed the lack of Google support for Android 4.0 drivers on the delay, but others wonder if it is the MOTOBlur overlay that Motorola puts on top of the stock Android experience.
(Read: Ultimate Android 4.0 Update List: Which Phones Will Get Ice Cream Sandwich)
It's still not clear who's to blame for the delay, but we finally have a first look at the MOTOBlur skin for Android 4.0. It's nice to see that Motorola has decided to keep things simple, with a few tweaks here and there. This means users will know that they have Android 4.0 instead of an unrecognizable slow OS update.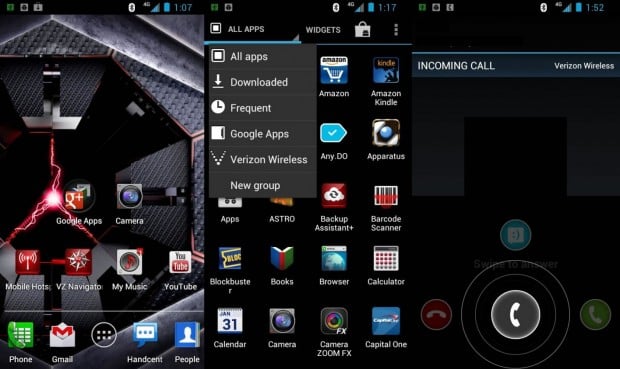 The leaked screenshots come by way of DroidRazr.com, and look to be a stock Verizon build, with apps like Blockbuster and Backup Assistant installed, and a Verizon Wireless collection of apps. These apps are not normally included on custom ROMs, which lends more credibility to these screens, but someone could have added them for this purpose.
Android 4.0, or Ice Cream Sandwich as it is nicknamed, offers a cleaner layout, new button interface and other improvements. Currently Android 4.0 is only available on a limited number of phones, like the Galaxy Nexus. We're keeping our eyes on manufacturers to figure out when Ice Cream Sandwich will be available on your phone.
Stay tuned for more news on Motorola Android 4.0 updates and leaks. Check out DroidRAZR for more screens.
Via Gadgetsteria