Android 4.1 on AT&T Galaxy S3 Review: First Impressions
AT&T and Samsung finally let the wraps off their Jelly Bean update for the Samsung Galaxy S3 and despite the annoying need for the terrible Samsung Kies software to apply the update, it's well worth the effort thanks to some new features.
This update adds a fast new user interface, improves the camera app significantly, adds a built-in Swipe-style keyboard and some other great features for blocking calls or notifications and more. The new features breathe more life into an already great phone, but unfortunately it takes some pain to get the update installed.
Updating Via Kies Stinks
Samsung Kies is to Android handsets what iTunes is to iPhones. It helps users sync and add content but most of them hate it. So, when the update showed up but could only be downloaded through Kies, it made getting the update more difficult than the typical Over-the-Air update Android users are accustomed to.
The first attempt on a Mac failed multiple times. Opening Parallels and using Windows in a virtual environment didn't work either. Finally, using a native Windows machine worked, but only after many failed attempts. The software wouldn't recognize the phone, then it wouldn't connect to the phone and then stalled whilst updating the phone causing a lot of frustration and worry about bricking a perfectly good device.
Only through persistence will users get this update. Many Galaxy S3 owners reported troubles with the update in the XDA Developers Forum , but others didn't face the problems we faced.
Fast Smooth
The user interface moves more fluidly and is noticeably faster. Sliding between home screens seems instant. Tapping a "folder" of apps on the home screen shows an animation as they open up but the animation doesn't slow things down, thanks to what Google calls Project Butter which caches the phone's visuals in memory. Launching apps seems to pop faster than before as well. See the video below:
Swipe Keyboard Built-in
For users who love a Swype-style keyboard that lets the user slide across the keys instead of stabbing at them with their fingers, the new update adds this feature into the built-in Samsung Galaxy S3 keyboard. It works great with smooth motions and accurate recognition.
Camera Improvements
The ability to pause recording while using the camera to shoot video gives on-the-fly quick-jump video editing. Start shooting and then hit pause. Re-frame a shot and start it again. The resulting video looks like an editor spliced two shots together instead of one single recording session
A new low-light mode takes great shots even in a dark room. We took the above image with the lights off and only light from a window with modest levels of light coming in at 4:30 in the afternoon on a dark and dreary day. The new camera app does a great job.
Other New Features
The AT&T Galaxy S3 Jelly Bean update also brings some new Widgets to play with. They look bigger which makes them a whole lot easier to see on the Galaxy S3's 4.8-inch display.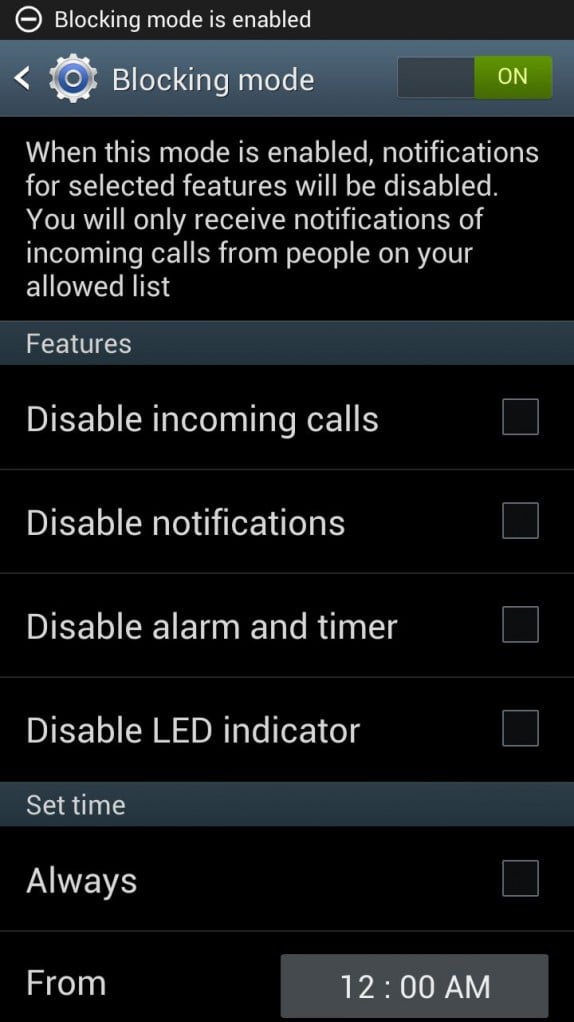 In Settings, there is a new feature called Blocking Mode. Enable it, and options like disabling incoming calls, notifications or alarms show up (see above). Users can then set the time for when the phone should block them.
For example, people who don't want notifications at night can set them to block all notifications from midnight to six. An allowed contacts list lets the user bypass the block so that important people can get through while blocking all others.
Another feature called NFC pairing allows users to simply tap their Galaxy S3 to a Bluetooth device for instant pairing. For example, the Motorola Elite Sliver we reviewed earlier this year allows for this feature. Tap the case of the headset to the phone to pair them instantly. It didn't work with the Galaxy S3 until this update came through.
https://youtu.be/oJKmSV-qRJg
The phone also now supports the AllShare Cast Wireless Hub, which lets users play video or other content over wireless to a TV or monitor with a supported device attached or built-in technology much like an Apple TV and AirPlay. See the above commercial for an idea of what this does.
Finally, the phone gets Google Now with this update. It helps the phone predict what a user might need before he or she asks, like sports scores for the person's favorite teams or traffic info for commonly used routes.

This article may contain affiliate links. Click here for more details.