Android 4.4.4 KitKat Update Arrives for Google Play Edition Devices
Last week Google surprised many by releasing a brand new update to Android just days before its annual Google I/O developer conference that has been going on all day today. Android 4.4.4 KitKat arrived Friday for some Nexus users, and has been hitting devices all week, however, they aren't the only ones.
This morning Google revealed the next version of Android that will replace KitKat, simply calling it the Android L Release, but before we get ahead of ourselves users still need the latest version that was just released. Android 4.4.3 KitKat was announced and debuted on June 3rd, and now less than a month later Android 4.4.4 KitKat is arriving for more and more smartphone owners.
Read: 5 Awesome Android L Features (Video)
With Android 4.4.3 less than a month old it was a surprise when Google released Android 4.4.4 KitKat for the Nexus 4, Nexus 5, Nexus 7, and Nexus 10 last week, and now they're pushing it out to other users. We can now confirm Android 4.4.4 KitKat updates are arriving for those with Google Play edition smartphones as well.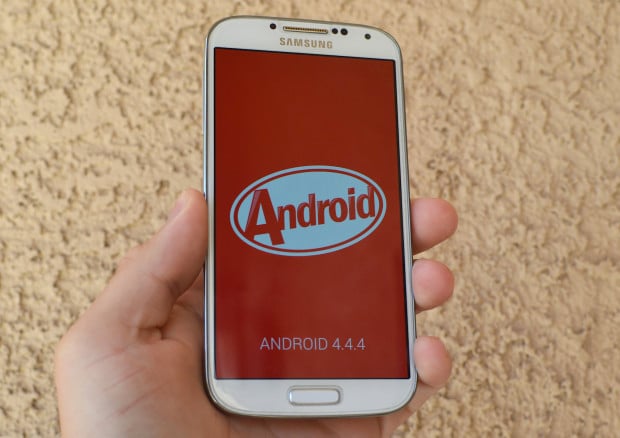 Last year at Google I/O the company announced flagship smartphones like the Samsung Galaxy S4 with stock Android, rather than custom user interface overlays like Samsung's TouchWiz or HTC Sense. These are called Google Play Edition smartphones and tablets, and are sold directly through the Google Play Store.
The benefit of a Google Play Edition device is guaranteed software updates, as well as timely updates. Manufacturers like Samsung, Sony, HTC, and LG can take months and months (sometimes over 6 months) to deliver software updates, and then these need to clear carrier testing before arriving on our smartphones and tablets. With Nexus devices there is no wait, which is why the Nexus 5 and Nexus 7 are both so popular.
Last week Nexus devices, and only Nexus devices started getting the Android 4.4.4 KitKat update, but now we're seeing it for others. Our very own Samsung Galaxy S4 Google Play Edition just received Android 4.4.4 KitKat, and we're hearing other versions can expect the over-the-air update to arrive in the coming days.
The HTC One Google Play Edition device was up first for Android 4.4.3 earlier this month, which then we eventually saw the same update arrive for the HTC One, the new HTC One M8 GPe, the Galaxy S4 GPe, and even Sony's Google experience device. However, those with the LG G Pad tablet are still waiting for Android 4.4.3 to arrive, and can expect the device to jump straight to Android 4.4.4 KitKat.
Read: Android 4.4.4 KitKat Update Breakdown
Today Google announced Android L, Android TV, Android Auto, and a brand new interface coming soon to Android smartphones and tablets. Surely there are tons of changes coming in the future, but for now Android 4.4.4 KitKat is the latest and greatest software update.
Smartphone and tablet owners can expect Android L to arrive sometime this fall, likely in October or November, but in the meantime be on the lookout for Android 4.4.4 KitKat, as we're now seeing a major rollout to all Google Play Edition devices.