Android 4.4 Kit Kat Update Confirmation is Questionable
We've already seen Pantech seemingly confirm an Android 4.4 KitKat update for its Vega Iron smartphone and now, it looks like another company may have spilled the beans extremely early as LG France looks to have hinted at an LG Optimus G Android 4.4 KitKat update in the future.
Back in September, Google announced the Android 4.4 KitKat update, an update that will apparently be touching down at some point in October. Nestle, Google's Android 4.4 partner, seemingly confirmed it last month and rumors have all pointed to the software rolling out sometime within the confines of this month. Surprisingly, we're seeing a bunch of chatter when it comes to updates for devices, something that doesn't always happen ahead of an announcement.
First, we saw the Nexus 7, Nexus 4 and Nexus 10 Android 4.4 updates all but confirmed through bug logs. These updates are academic as they are all relatively new and Google typically gives Nexus devices several years of support. Next, we saw Pantech surprisingly confirm Android 4.4 KitKat for the Vega Iron, a device that arrived earlier this year in Asia. We've also heard a bit of chatter about Android 4.4 updates for HTC devices with rumors suggesting that the HTC One X and HTC One X+ won't get the software.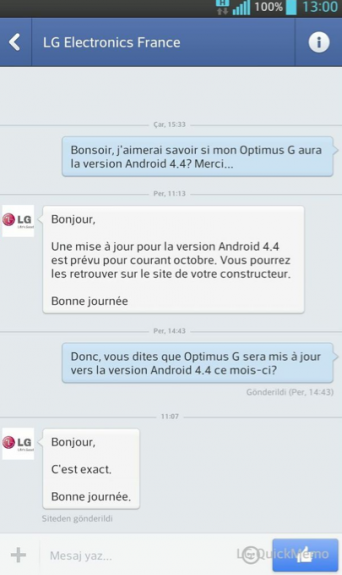 Now, it's an LG device that is seeing information emerge as the LG Optimus G is now in the spotlight thanks to comments made by LG France. In a thread on Reddit, a user relays his conversation with LG France's Facebook account. In the conversation, he asks if the LG Optimus G will be getting an update to Android 4.4. Surprisingly, he got this in response:
Hello, An update to the Android version 4.4 is scheduled for October current. You can find them on the website of your manufacturer. good day
This response seemingly backed up an FRAndroid report that claimed that the LG Optimus G would be getting the software update in October. That's because that site was given the same report. Not satisfied with the response, he approached the account again, asking for more clarity. When asked if they were saying that the Android 4.4 KitKat update would hit the LG Optimus G this month, the account replied "Exactly."
It's the second response that fuels this rumor as he clearly asks if it's Android 4.4 and the representative says yes. Still, there are a few reasons that this "confirmation" is dubious.
One, the LG Optimus G is still on Android 4.1 Jelly Bean in the United States and elsewhere. It would be a little strange to see it jump from Android 4.1 to Android 4.4 in October. Second, operators of social media accounts, often provide bad information. And third, LG is typically not in the front of the pack when it comes to Android update speed. It generally lags behind companies like HTC and Samsung. And four, Nexus devices typically see the update first and non-Nexus devices get software months later. Android 4.4 KitKat is supposedly coming out in October so it would be strange to see a non-Nexus get it so soon.
We have seen companies skip major Android updates for others, the HTC One skipped Android 4.2 in the U.S. and we've heard that Android 4.4 could come to older devices. So at this point, anything is possible. We've reached out to LG for comment but haven't heard anything and don't expect to. At this point though, take this rumor with an extreme grain of salt because we highly doubt that the LG Optimus G is going to get Android 4.4 KitKat in October, despite what an official LG Facebook account might be saying.

This article may contain affiliate links. Click here for more details.