Android 4.4 KitKat Last Minute Leak Reveals Always-on Listening Mode
The launch of Android 4.4 KitKat and the Nexus 5 could arrive any minute now, with initial reports claiming early this morning, and we're getting a few last minute details before Google officially reveals everything. From pictures all over the net and on Reddit, to plenty of screenshots of the latest OS.
This morning we detailed some important changes in 4.4 KitKat, but now we have a few screenshots which have leaked hours before the unveiling, sharing new details that have yet to be officially confirmed. The same leakster over on Reddit answered a slew of questions about the brand new device and operating system, followed by plenty of pictures of the OS. What we have below is a look at Google Search (Google Now) and its widget, and if you look close it gives away one key detail.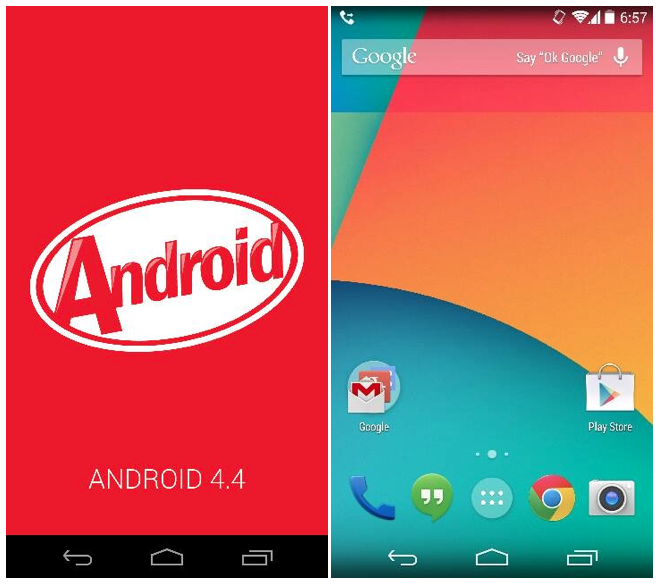 Android 4.4 KitKat and the Nexus 5 will have the same always-on listening and voice commands of the Moto X, and likely much more considering Google's always improving and innovating when it comes to hardware and software. You see the "Say OK Google" in the search widget, confirming the hands-free always listening mode will be present. This is by far one of the best features of the Moto X, and we're happy to see it arrive with Android 4.4 KitKat.
The leak doesn't confirm any new features or voice commands, but we're expecting Google to have a slew of new options and improvements to the entire Google Search and Google Now experience, which has been a huge focus on Android since first being announced. Google Now is extremely powerful, and expect it to be even better once KitKat arrives.
We're also getting a few other extremely important details from the leakster, ones we hope to officially confirm as soon as Google drops all the goodness later today. We're hearing the official announcement should come around 11 AM PST, but then again, we've heard so many different reports thus far it's hard to trust any one.
For one, the Nexus 5 uses a micro-SIM, which we've seen most phones switch to as of late. He mentions that a swipe up from the screen (while off) will launch Google Now, so it might not have the always-on listening, but will have multiple different hands-free voice-enabled features we can enjoy.
Read: Nexus 5 Hands-on Video
At this point we really know absolutely everything about the Nexus 5, and all we need is for Google to officially release the smartphone, and the new OS, so we can start enjoying it and tearing into what's new. Again, the Nexus 5 and KitKat are set to be revealed today, any moment now, so don't go anywhere and we'll update the moment we know more.

This article may contain affiliate links. Click here for more details.