Android 4.4 KitKat Will Bring a New Google Play Store
Lately the entire Android world has been talking about the update to 4.4 KitKat and the Nexus 5, not to mention rumor after rumor of when it will arrive. This afternoon something different has surfaced, which is a look at the brand new somewhat redesigned Google Play Store (formerly Android Market) that will arrive with the Android 4.4 update.
Currently the Google Play Store is version 4.3.11 but we're getting a look at what's next thanks to leaked screenshots revealed by Android Police. Google will be updating the Play Store to version 4.4 alongside the launch of Android 4.4 KitKat and it will finally have a few much needed changes to the menu and general navigation. Below are a few examples of the leaked application.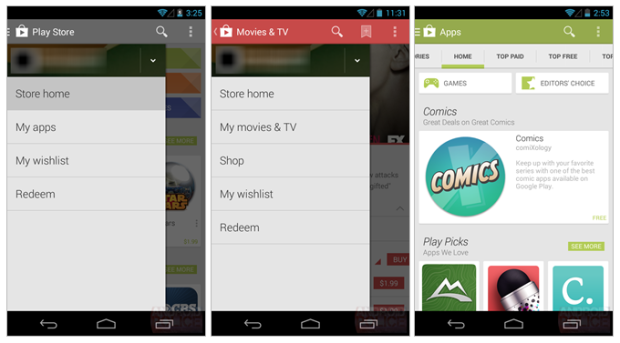 What we're seeing is reportedly a work-in-progress and not 100% complete version of the new Google Play Store for Android. It looks like Google will be dropping the long menu and settings options in favor of a quick slide-out navigation drawer. This will be used for quick navigation between the main Play Store front page, your currently installed apps, wishlist, and Play Store gift card redemption.
Instead of cramming all of this into one pop-up when a user selects menu, you'll now have a quick to access slide-out navigation bar. One which will change depending on where you're at in the storefront. The menu button will bring up the help and settings pages, and everything else will be on-screen navigation, which makes much more sense.
That isn't all we're getting today either. The leakster also revealed some details about what's next for the Play Store besides this minor change. Google is reportedly going to overhaul the entire user interface to closely resemble Google Now, Google Keep, and the newly updated Gmail app with a card-based UI.
So when can we expect the new Google Play Store 4.4 to arrive? According to the report it will roll out at the same time as Android 4.4 KitKat starts reaching other Nexus devices, so the wait will probably be until sometime near the end of the month.

This article may contain affiliate links. Click here for more details.