Android 5.0.1 Update Hitting Google Play Edition Devices
After multiple delays and setbacks it appears that both Google and HTC are prepared to finally start sending out the latest Android 5.0.1 update for some of their Google Play Edition devices.
Google announced and released Android 5.0 Lollipop back in October, and it eventually started rolling out to Nexus devices and some Google Play Edition smartphones in early to mid November, but a few HTC handsets were left out, until today.
Read: HTC One M9 Rumors and Specs Emerge
A few weeks back HTC confirmed the HTC One and One M8 would both be updated to Lollipop by the end of the week, which eventually saw a delay with no new release date in sight. Then the latest word was it would arrive on Monday, which again, never happened. Today though we finally have excellent news, as the update is rolling out as of this morning.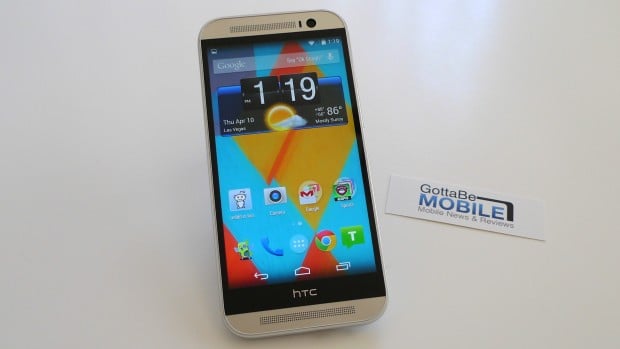 The popular HTC One and HTC One M8 Google Play Edition smartphones were set to be among the first devices to see the new Android 5.0 Lollipop update, but we actually have even better news. Earlier this week Google confirmed a new Android 5.0.1 update with many initial bug fixes, and that's rolling out to Google Play Edition devices right now.
Android 5.0 Lollipop is Google's latest release to the Android ecosystem, and it is chalked full of useful features, pretty animations, and a whole new experience. However, it did have its share of bugs causing problems for some owners, and Google's quickly issued an initial release update.
Read: Android 5.0 vs Android 4.4 KitKat: What's New in Lollipop
Earlier this week we saw Android 5.0.1 emerge for some Nexus users, and that update has slowly been rolling out all week long. Those with a Nexus 6 are still stuck on Android 5.0 for now, while many others have received Android 5.0.1 Lollipop this week.
This morning one of HTC's product managers updated us on the situation, then later confirmed both the HTC One and HTC One M8 are getting Android 5.0.1 as of this afternoon. And many owners have already received the update.
M8 GPE Owners! We just received TA from Google!! I am very grateful for all your patience. OTA to start at noon on 12/5 (working to pull in)

— Mo Versi (@moversi) December 5, 2014
A quick look on Twitter shows this is indeed Android 5.0.1 for the HTC One or One M8, and it's available as we speak around the globe. The image below is what owners can expect once the notification pops up on their handset, followed by a somewhat large download and few minutes of downtime before the upgrade is complete.
The update appears to be a little over 500MB in size, so you'll likely want to download and install it over a WiFi connection for good measure, and to save your data.
Those waiting for the Android 5.0.1 update on the HTC One or HTC One M8 Google Play Edition devices can head into settings > about phone > and tap check for updates, as it should be ready and waiting. Otherwise this is a staged rollout and should be complete in the next few days.
We've yet to hear any additional details about the Android 5.0 update for regular HTC One and One M8 users, nor has Google released any further details regarding other Google Play Edition smartphones and tablets. The LG G Pad 8.3 and Sony Z Ultra got Android 5.0 earlier this week, and will now need to wait for this new bug fixer update. There has been no news regarding the Samsung Galaxy S4 GPe Android 5.0 update, but we'll update once we know more.

As an Amazon Associate I earn from qualifying purchases.