Android 5.1.1 Lollipop Release Imminent
A new Android 5.1.1 Lollipop update has been confirmed this week by Google themselves, and a release date is likely imminent with the software running on both the Nexus 9 tablet, and the older Nexus 7. In March Google announced Android 5.1 Lollipop, aimed at fixing many initial Lollipop bugs from the launch, and now another update should be coming soon.
Last month, Google started rolling out its brand new Android 5.1 Lollipop update for Nexus smartphones and tablets. Google's initial roll out included the Nexus 6, Nexus 7 2012 Wi-Fi, Nexus 10, and Nexus 5. Then earlier this week it arrived for the Nexus 4 and a few others. However, the Nexus 9 is still stuck on Android 5.0.1 Lollipop, and hasn't received any of the other two software updates, but that's about to change.
Read: How to Install Android 5.1 Lollipop Right Now
Back in October Google finally announced Android 5.0 Lollipop, and it arrived in November on the Nexus 6 and Nexus 9. Since then many smartphones and tablets have seen the update, as well as most manufacturers like Samsung, HTC, LG and Motorola have all been busy pushing Lollipop updates out to all their current devices. That said, it looks like another bug fixing update could arrive any day now.
Earlier this month some reports and rumors started swirling that Google was working on another version of Android, aimed at fixing some bugs that are still causing problems for those on Lollipop. Android 5.1 was meant to fix most issues, but there are still a few major problems that need fixing.
Google still hasn't officially confirmed, acknowledged, or even announced Android 5.1.1 Lollipop, but this week it surfaced running on two Nexus tablets, and a release could be coming soon.
The Android Open Source Project (AOSP) is where all the code for the Android operating system is. And while doing a bit of digging, Android Police found two Nexus devices running Android 5.1.1 Lollipop in Google's Android audio latency page of AOSP. This doesn't confirm the release, but confirms the new software update is being tested, and should be coming sometime extremely soon.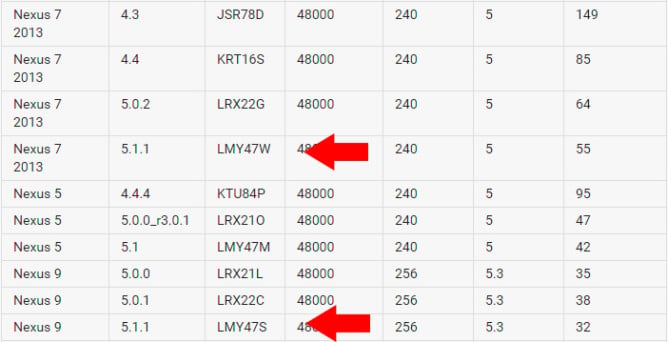 Here we see both the Nexus 9 and the 2013 Nexus 7 already running Android 5.1.1 Lollipop. Typically Google runs software versions that are unreleased to the public for testing, but with it starting to surface more and more an over the air update for all owners should likely arrive soon. That could be tomorrow, or it could be in 3-4 weeks. It's hard to say with Google, as they never share details and typically just push out software updates when they're ready.
Google has updated almost every Nexus smartphone and tablet to Android 5.0.1, 5.0.2, and now 5.1 Lollipop, but for whatever reason the latest flagship Nexus 9 is still stuck on Android 5.0.1, which it received in mid-November. The software is plagued with little issues, as well as a bigger "memory leak" problem that causes apps to crash, devices to stutter, and possibly even reboot.
The memory leak issue was thought to have been fixed in Android 5.1, but that wasn't the case. Google has since fixed whatever the issue was, possibly added a few new features and tweaks, improved stability and battery life, and should be ready to push an update out in the near future.
The software was apparently compiled by Google back in February, so the 5.1.1 Lollipop update has been under the testing phase for at least two months now, and hopefully will start rolling out sometime soon. The moment we know more details or the release arrives, we'll be sure to update.

As an Amazon Associate I earn from qualifying purchases.