Android 5.1 Lollipop Update Hits the LG G Pad 8.3
Late last month Google announced the third major update since releasing Android 5.0 Lollipop back in November. Aimed at fixing a slew of bugs and problems, Android 5.1 Lollipop was announced and immediately started rolling out to select smartphone and tablet owners. Today though, we have good news for those with the old and aging LG G Pad 8.3 from 2013.
The LG G Pad 8.3 was arguably one of the best Android tablets released in 2013, right up there with Google's own Nexus 7 tablet. It eventually received Android 4.4 KitKat, and the Google Play Edition saw Android 5.0 Lollipop late last year. However, while many with carrier versions are still on KitKat, today the Google Play Edition G Pad 8.3 is getting 5.1 Lollipop.
Read: Android 5.1 vs Android 5.0 Lollipop: What's New
Those with the original Nexus 7 are still stuck waiting, and most tablets from 2013 have yet to see Android 5.0, all while Google and LG are already delivering the latest and greatest to G Pad 8.3 owners. Read on for more details.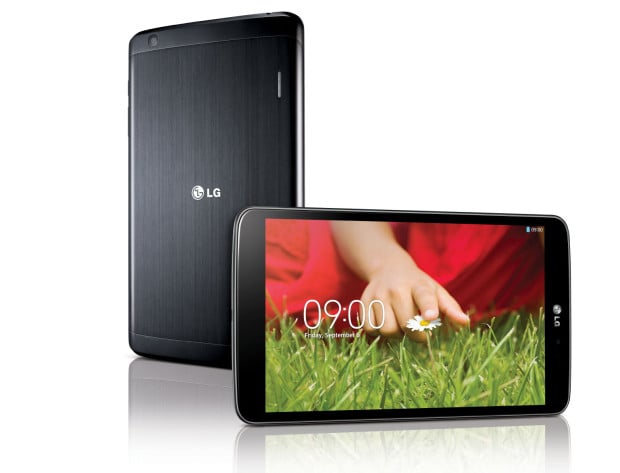 The LG G Pad 8.3 was announced and released in 2013, and arrived shortly before Android 4.4 was announced. It was running Android 4.2 Jelly Bean, and it took over a year for the tablet to see KitKat. This was bad news for LG, and bad news for many owners. Those with the regular or Verizon LG G Pad 8.3 are still stuck on old software, but if you bought the Google Play Edition you'll have the latest software sometime soon.
Read: LG G Pad 8.3 Review
In November Android 5.0 Lollipop was released, but that was quickly followed by bug fixing updates to Android 5.0.1 and Android 5.0.2, as well as Android 5.1 late last month. Google's slowly delivered the latest Android 5.1 to the Nexus 5, Nexus 6, and the original Nexus 7, but almost all other Android smartphone and tablet owners are still awaiting its arrival.
Which makes this a surprising new release. Last night LG and Google started pushing out Android 5.1 Lollipop for the G Pad, and you can get the file and sideload it yourself right here.
Android 5.1 Lollipop brings plenty of software changes, bug fixes, improves performance, and hopefully increases battery life for all owners. The LG G Pad 8.3 has an excellent 8.3-inch 1920 x 1200 full HD display, an aluminum design, a powerful quad-core processor and a micro-SD slot for storage expansion. It gave the Nexus 7 and original iPad Mini a run for its money, and now is running the latest version of Android.
The LG G Pad 8.3 Android 5.1 Lollipop update is rolling out as an over the air update, and is about 200MB in size. Users can expect the notification to arrive anytime from last night, to over the course of the next few weeks. Google slowly rolls updates out to make sure there are no problems. This means if you don't get it today, don't panic, as it should show in up the next few days. Owners can also head into settings > about tablet > and check for updates manually if they'd rather not wait.
At this point we're still waiting for Android 5.1 to arrive on many Nexus devices, which makes this release even more surprising. Google's own Nexus 9 is still on Android 5.0.1 and never received Android 5.0.2 or 5.1 yet, but that too, should be coming soon. The entire release of Android 5.0 Lollipop hasn't been as smooth as many hoped, but at least some LG G Pad 8.3 Google Play Edition owners will be happy to see the update arrive.

This article may contain affiliate links. Click here for more details.