Android L Release Inches Closer as Features Leak
The Android L release details have slowly been emerging more and more over the past few months since being announced back in June, but we're still waiting for more information. Currently being called the Android L release most can expect Google to unveil Android 4.5 or 5.0 "L" sometime in October or November.
Google shocked many back in June when they revealed and teased next version of Android ahead of the release for the first time in over three years. All previous releases were a complete secret until they were announced and released. Not only that, but Android L is currently available for select users to beta test.
Read: Nexus 8 and Android L Release Date Rumored
While the Android L release date is still somewhat of a mystery, more and more information has arrived regarding what to expect, including a few new features. Android L will take the mobile operating system in a brand new design direction full of animations, effects, and visual responses, but there are tons of other changes coming with it. We've heard of a few here and there, but as the release grow near more rumors and features are starting to emerge.
Last month we learned it will be the most secure version of Android yet with all users data and information being completely encrypted from prying eyes in an effort to improve privacy. That's just one of many things coming though. Android L will support 64-bit computing, deliver multi-user or a "kids mode" for smartphones, instead of just tablets like we saw back with Jelly Bean, and much much more.
While we already know plenty about the Android L release based on the developer preview (which you can see a short glimpse of below) this week two big features were potentially revealed early.
Read: Android L Release: Hands-On With What's New
According to Android Police Google has two major changes coming in Android 5.0 L, or at least could be coming in the near future. One is native multi-window or dual-screen mode. Allowing for two apps to be on the screen at the same time simultaneously. Samsung does this on the Note series, LG has implemented this, and some tablets can use more than one app at a time because the large display. With a 5.92-inch Nexus 6 and a bigger 8.9-inch Nexus 9 both rumored for a release in the coming weeks or month, adding multi-window support would be great.
According to their sources the popular and useful multi-tasking or recent apps menu will still work as we're all used to, but have a few new functions. Users can simply slide apps from the recent apps drawer to either side of the screen, and open a split or multi-window mode. This is great for watching YouTube while reading emails and browsing the web, or for an array of both business or entertainment needs.
This is nothing new to Android, mind you, but for it to be native right into Android L release for all manufacturers, rather than just the few that do it themselves, is a big step. Not to mention Google will probably do it better than Samsung or LG and their limited number of apps that support dual-window modes.
That isn't all either. Another awesome new feature that could debut with Android L is Google Play Store "app demos" or app betas. Yes there's already a beta program now, but this is more of a try before you buy. The Information suggests that Google is testing "micro apps" of sorts where a developer can upload a small portion of their app and let users try it for free, and if they like it, then buy the full version.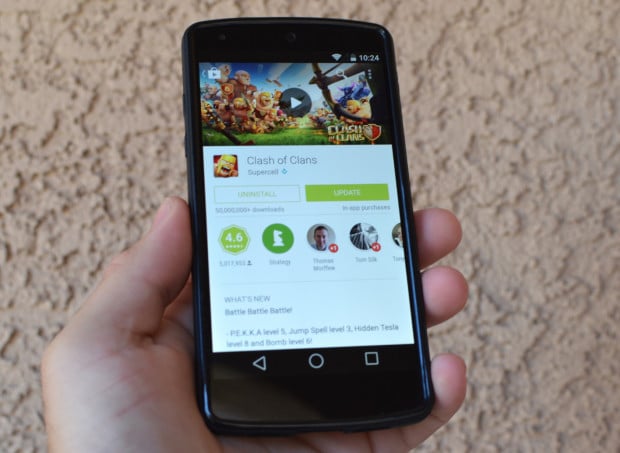 Games can often cost from $0.99 to upwards of $5.00 or more these days, and often times users don't want to pay that and end up not liking a game, app, or feature. Not to mention it's no secret that the Google Play Store lags behind iOS in terms of users buying apps. In fact, one report suggested that only 10% of users purchased an app on the Google Play Store last year. That's a staggering number.
Google wants purchases in their app store to increase, as that will lead to more developers taking a focus on Android, which then improves the entire ecosystem. This isn't anything major, but certainly a step in the right direction.
Android L Release Date
So when can we expect the all new 64-bit Android 4.5 or 5.0 "L release" to arrive? Soon. We're calling it Android 5.0 Licorice, Lollipop, Layer Cake, and a few other names, but we won't know what dessert Google's chosen to represent its mobile operating system until they debut it live on stage.
Multiple sources have all suggested Android L will be announced and revealed in its full release form alongside the new Nexus 9, and maybe even the Nexus 6 smartphone next week. October 15th or 16th is the date floating around, with the public release arriving on or around November 1st.
There are tons of changes, improvements, and new features coming with Android L so stay tuned for more details as they arrive.