Android L Release Coming Soon for More Nexus Devices
Last week for the first time in over three years Google revealed the next version of Android well ahead of the potential release date. At its annual Google I/O developer conference the Android L release was announced, shown off, and even released for two Nexus devices.
In a shocking move Google didn't just let us see what they've been working on, they also released an early developer preview of the Android L release for the Nexus 5 and 2013 Nexus 7, which is available right now for those interested.
Read: 5 Hidden Android L Features & Tips (Video)
New Android L release date details have slowly started to surface though, and it appears that owners of the multiple other Nexus devices will soon be able to enjoy the latest Android L too. Yesterday we saw some bits hinting at an upcoming release, but today Google's added Android L to AOSP, which is the Android Open Source Project.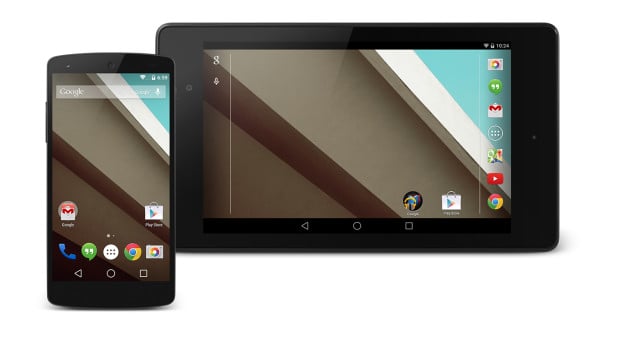 The update to Android L, which delivers a number of big time upgrades and will replace Android 4.4 KitKat later this year, is set to arrive for more Nexus devices soon. Last week Google released flashable images of Android L for the Nexus 5 and Nexus 7, but that left multiple other Nexus users in the dark. However, it appears that those with the Nexus 4, Nexus 7 (2012) and even the Nexus 10 could soon be able to get the latest version of Android.
As expected during the announcement live on stage at Google I/O we received zero release date details about Android 4.5 (or 5.0) L, which many expect to be called Lollipop once announced. But that doesn't mean a myriad of devices won't be able to enjoy it soon. With Android being open source, this means bits of the code will be ported to other devices and developers will create ROMs users can flash for other devices.
This morning Google added nearly all of the source files of Android L for the Nexus 4, Nexus 7 2012 and Nexus 10 like we mentioned above. And while this appears to confirm that a release for said devices is coming extremely soon, it's too early to confirm a release is indeed coming. However, this does mean that once the full files are posted developers will be able to build full versions of Android for each device.
Read: How to Get the Android L Release Right Now
At the moment this isn't the full source files, so developers can't get to work building flashable ROMs for smartphone and tablet owners, but hopefully they'll be coming soon. The kernel source and drivers weren't provided, which is another key component we'll have to wait for.
So what exactly does all of this mean for other users? Nothing. Sadly this is only for Nexus devices, as expected, and this also won't be arriving as an easy over-the-air update anytime either. Again, this is an early developer preview of the next version of Android which won't be released until the fall. Meaning mostly developers and enthusiasts will be the only ones enjoying this for now, or those daring enough to dig through some forums and flash it themselves.
It isn't all bad news for those who don't own Nexus devices though. The new material design inspired Android L Keyboard is available now, and other parts will surely be integrated into custom ROMs later down the road. To see a few of the features coming in the next version of Android, check out the video below.
With Android L users will see some of the biggest changes to Android in a long time, and many of the changes are extremely important. The interface is improving by leaps and bounds, while also aiming to deliver an exceptional experience to an array of devices and screen sizes. The settings system is getting major enhancements, and Android L will deliver Android in our vehicles like never before.
There's still plenty we don't know about the all-new Android L release, but surely Google will continue to reveal more and more in the coming weeks and months. Those with the Nexus 4 or other devices can hopefully expect a release for their device in the coming days.

As an Amazon Associate I earn from qualifying purchases.