Android L Release Details Continue to Arrive
The Android L release details have slowly been emerging more and more over the past few months since being announced back in June, but we're still waiting for more information. Currently being called the "Android L release" most can expect Google to unveil Android 4.5 or 5.0 "L" sometime in October or November.
Google shocked many back in June when they revealed and showed the next version of Android ahead of the release for the first time in over three years. All previous releases were a complete secret until they were announced and released. Android L is currently available for select users to beta test too, and we're hearing it could debut early next month.
Read: Nexus 8 and Android L Release Date Rumored
While the Android L release date is still somewhat of a mystery, more and more information has arrived regarding what to expect, including a few new features. Android L will take the mobile operating system in a brand new design direction full of animations, but today we also learned it will be the most secure version of Android yet.
Google's next version of Android, the L release, will be full of bright colors, neat animation effects, new designs, and take a completely different approach to the OS than they have ever done before. We've seen plenty of it already, and a short look at the Android L beta preview can be found below.
While the release has yet to arrive, we've learned about a few new features we can expect to see once it debuts, as well as a potential release date. First up, a popular Android developer leaked news that his sources claim Android L and the new HTC Nexus 9 tablet will both be unveiled on October 16th. This is the announcement date, and the release will come at a later date.
Same source: Announcement rather than launch of the HTC Nexus 9 on 16th October. 8.9" (of course!)

— Paul O'Brien (@PaulOBrien) September 18, 2014
There's no report of an actual release date yet, but last year the Nexus 5 and Android 4.4 KitKat started arriving within two weeks of the October 31st announcement. We'll have to wait and see, but a new version of Android and two new Nexus devices could be here in time for Halloween.
Next up is new features. Back in August Google confirmed multiple user accounts will finally be coming to stock Android. Think of this like guest mode on computers, or a kids mode like we've seen from Samsung, Amazon, and other third party manufacturers. Tablets have had multi-user account options since Android 4.2 Jelly Bean, and the Android 4.5 or 5.0 L release will deliver this same much needed feature for smartphones. Allowing parents to set up multiple accounts for kids, business users to separate personal and business information, and much more.
Speaking of multiple accounts and business uses, this week one major new feature was also confirmed by Google. The incoming Android L release will be the most secure version of Android yet, and Google will encrypt all user data on all Android L devices out of the box. Encryption has been available for years, but not enabled by default.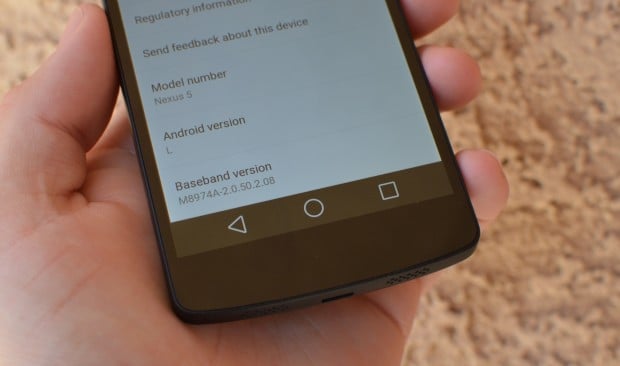 With all the recent NSA snooping news we've heard over the past six months more and more companies have announced they'll tighten down access to user information, and protect their privacy. The Washington Posts confirmed this earlier this week, stating that Android L will offer full-disk encryption by default.
"For over three years Android has offered encryption, and keys are not stored off of the device, so they cannot be shared with law enforcement. As part of our next Android release, encryption will be enabled by default out of the box, so you won't even have to think about turning it on." – Google spokeswoman Niki Christoff
So what exactly does this mean? Full-disk encryption essentially will make our Android devices harder to access from prying eyes. Like the government or NSA. In theory at least. Meaning that Google's next version of Android will be making an extra effort in protecting its users privacy, data, and everything else that goes along with it.
It's worth mentioning that this should help protect our personal data from prying eyes, but if you ask me, if certain parties want it, they'll get it. This is certainly a step in the right direction though, and something Google's been planning since Android 3.0 Honeycomb, but will finally put into effect out of the box with stock Android L.
The October 16th unveil date for Android 4.5 or 5.0 "L release" may or may not be accurate, and we'll have to wait and see. However, once Android L does arrive it will be packed full of new features, beautiful interfaces, be more secure, and hopefully much faster all while consuming less battery life. Just to name a few.