Android L Release Making Progress
Android 4.4.4 KitKat is the current and latest version of Android released by Google, but the company's next major release is coming up quick. At Google I/O 2014, Google announced a brand new version of Android dubbed Android L. The update, which delivers a number of major upgrades and will replace Android 4.4 KitKat this fall, is currently available to developers with the Nexus 5 or Nexus 7 2013.
One of the biggest changes coming in Android 4.5 or 5.0 "L Release" is a new design guideline called Material Design. Text is crisp, colors are vibrant, and there are tons of actionable buttons, animations, and much more. It's a very promising update, and more and more leaks continue to arrive suggesting the Android L release is making progress, and will be here sooner rather than later this fall.
Read: Android L Release Firming Up
Google shocked the Android world when they not only showed off the next release of Android early for the first time in nearly three years, but they also released it for developers to try early. The new Material Design guidelines have slowly arrived in a few of Google's key Android apps. Like Chrome, Hangouts, and others, and now we're getting our first look at the new Google Play Store with the Android L look and feel.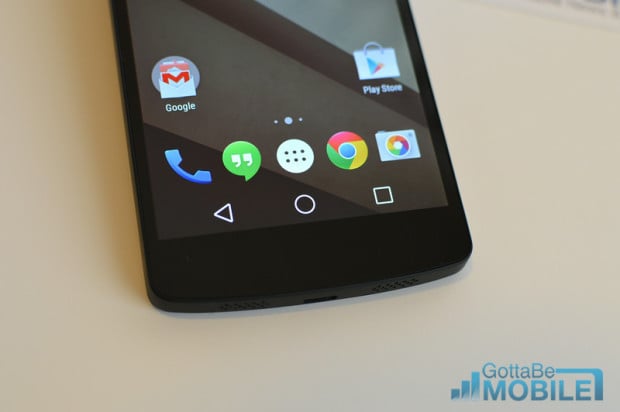 For now the Android L release to the public remains a mystery as Google continues to improve its upcoming release with new features and a compete visual overhaul. While we wait for more details from Google themselves, a few other reliable sources have revealed some telling details about the Android L release.
We're hearing it could arrive sometime in October, and rollout in early November, but there's no concrete details thus far. Last year Android 4.4 KitKat was announced on October 31st, and hit Nexus devices in November, then all manufacturers slowly issued updates.
What we're focusing on today though, is the Google Play Store, which is arguably one of the most important aspects of Android. The Google Play Store has hundreds of thousands of apps, games, music, movies, magazines and more. A few of Google's apps have received a facelift to the Android L material design look ahead of the release, but the Play Store still looks how it did last year. However, this week a new leak emerged showing major progress from Google HQ.
The guys from AndroidPolice received an early look at the new Google Play Store v5.0 that will be released in the near future, or accompany the official Android L release later this year. It adopts many of the colors and design changes of Android L's material design, looks extremely clean and fluid, and has tons of neat yet simple animations to give users a brand new experience on Android smartphones and tablets.

The images above show some of the neat animations users can expect from the Android L release, as well as a look at the new Google Play Store headers. They're colored based on category as before, but are bigger, easier to read, and adopt the new design language. Those colors will also extend into the notification bar up top of official Android L devices, for an even more seamless and clean look. Below is the old vs new.
Another major change we're seeing here has to do with some of the coding behind the scenes of the new Google Play Store. For anyone who's switched Android devices and used the "restore from previous device" option, it often will automatically restore all apps you've downloaded, and we mean all. Everything from old phones, tablets, and more.
The new Google Play Store on Android 4.5 or 5.0 L could do this on a per device basis. Meaning your phone backups will be separate from tablet backups, considering most users have different apps or uses for a smartphone vs tablet. It makes perfect sense to backup or restore apps and settings accordingly.
For now this hasn't been 100% confirmed as an official leak, but Android Police is an extremely reliable site that's been deadly accurate in the past. They suggest this is most likely an official build, but we'll have to wait and see.
With more and more apps updating to the Android L release material design look and feel, including ones from Google, a release is likely in the works and coming soon. This is good progress towards the release date, and we'll be on the lookout for more information.