Android M Beta: 6 Things You Need to Know
This morning the next version of Android was officially announced by Sundar Pichai at Google I/O 2015. The Android M Beta or Developer Preview was revealed on stage, coming soon for developers to get an early look at Android Lollipop's replacement, and below are a few things users need to know.
Last year months ahead of the Android 5.0 Lollipop release in November, Google released the Android L developer preview giving users an early look at what was coming soon. Thankfully, the same thing is happening in 2015 with Android M.
Read: Nexus 2015 Rumors: 5 Things to Know Right Now
With Android M (official name unknown) Google will look to improve the overall experience of Android 5.1 Lollipop even further. The company introduced new features, Android Pay, improvements to battery life and much more. Read on for a few key things users will need to know.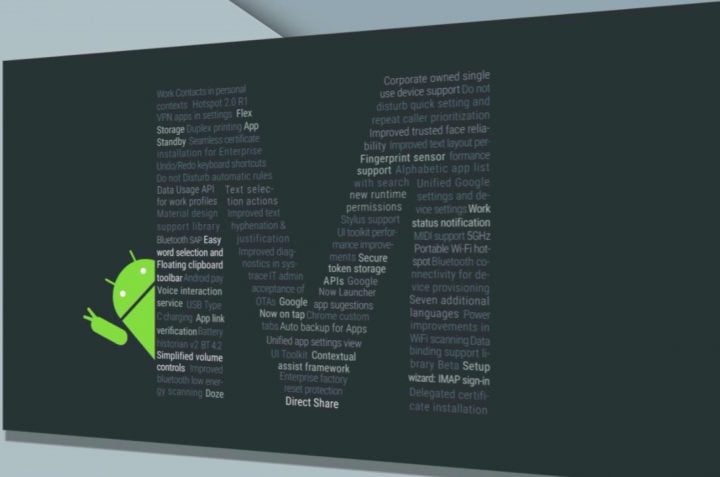 Google's annual developer conference started this afternoon where they've announced Android M, improvements to Android Wear, a brand new Google Photos app that will make saving, sharing, editing and creating images a breeze, things with Android Auto and much more.
It doesn't appear that Android M will look too much different from Lollipop, but instead be much better in many ways. And while everything from IO is exciting, below we'll be detailing a few important aspects of Android M. It's coming later this year as an official release, but will be available later today as the official Android M Beta.
Android M Developer Preview
After Google went over a few of the new features in Android M, they confirmed a developer preview or early access beta will be available later today. The Android M Beta will be released for the Nexus 5, Nexus 6, Nexus 9 and the Nexus Player.
We're hearing the factory image and download files will be available today at the Google Developer Portal, but it may not be available to average users. We'll have to wait and see. So what's new with Android M? Lots of things, but below are a few key things Google has focused on.
Permissions
With Android M app permissions will be getting a major overhaul. Each app has to request permission to use things like the microphone, access your contacts, or make calls (think Facebook Messenger) and with Android M the user will have absolute control.
App permissions won't be shown as you install the app on the Google Play Store like before, and instead the permissions will need to be accepted or denied as they're requested by each individual app. This will make devices more secure, improve our experience, and give users complete control over Android like never before.
Google's new App Permissions system narrows the list of permissions an app can request down to Location, Camera, Microphone, Contacts, Phone, SMS, Calendar, and Sensor. And apps will have to ask and be granted permission before accessing any of those. Then, to make things even better, we can go in and allow or deny access to any of those to each app inside a new app permissions settings menu. Once you allow access the app has it until a user manually removes it, if they'd like.
Android Pay (Google Wallet)
Google Wallet has been rebranded and will now be called Android Pay. With this the same experience using NFC to make mobile payments will be easier and better than ever, similar to Apple Pay, and older devices will still have access as well. It will work through NFC and Host Card emulations for older devices, and on new devices users will be able to authorize payments through their fingerprint.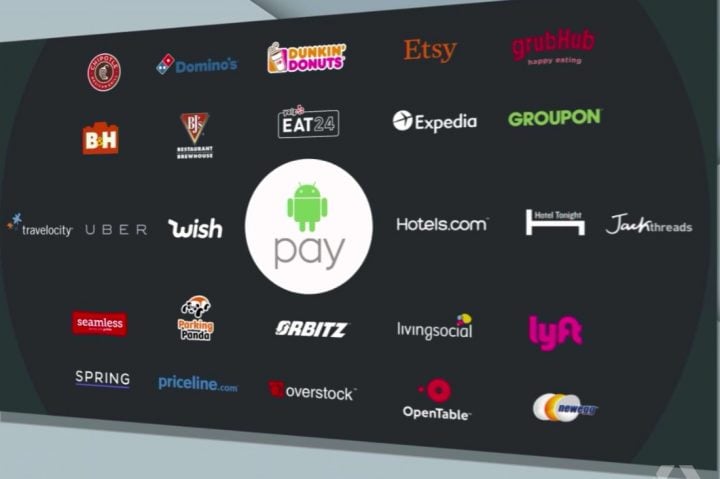 Owners of the Galaxy S6 with Android M will be able to instantly tap and pay using Android Pay all with their Galaxy S6 and the tap of their fingerprint right on the home button. More and more devices are getting fingerprint sensors, and we have more on that below.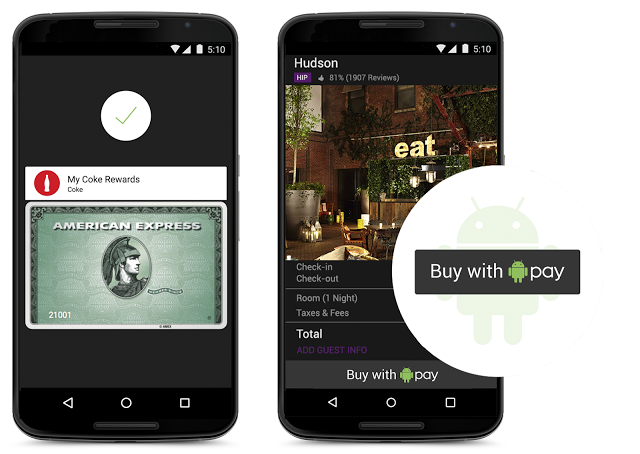 Android Pay will work at more than 7000 stores that already support these types of payments, similar to Apple Pay. Additionally, users will be able to make in-app payments with apps like Uber, Groupon, Lyft and a thousands of others once developers integrate this into each app.
More information can be found on the Official Android Blog.
Fingerprint Support
As mentioned above, Android M will have fingerprint scanner support built right in. For now manufactures like Samsung have their own system, but with Android M the experience will get much better. This means we can expect more and more devices to start shipping with fingerprint scanners, allowing users to safely use Android Pay and more.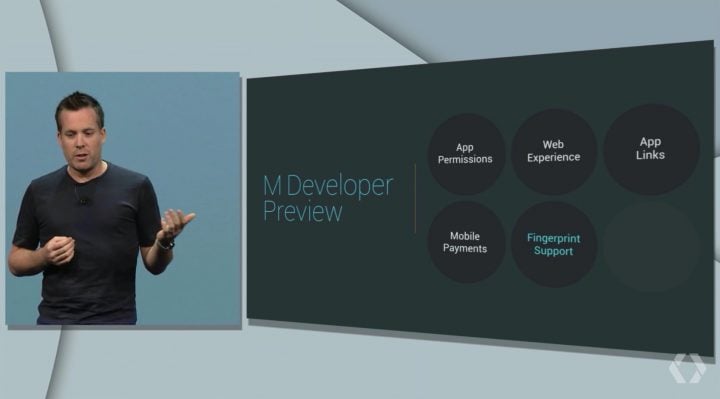 With Android M users will be able to unlock a device with a fingerprint, sign into accounts with the touch of a finger instead of a password, make one-tap instant mobile payments with Android Pay, and most likely PayPal support will be on board as well.
Everything from signing into a Gmail account can be done with your fingerprint, making purchases on the Google Play Store and more. All of this will be done with a fingerprint instead of entering in a password. We don't have too many details yet, but will try this as soon as the Android M beta is released.
Power, Charging & Battery Life
Each version of Android Google mentions they're working to improve performance and battery life, but this is still an area that needs improvement. Android 5.0 Lollipop improved battery a little bit, but with Android M Google has a lot of different things they'll be bringing to the table. The most important is a new feature called "Doze".
With Doze Google hopes users will get improved battery life like never before. This feature is something we've seen on iOS, and is a welcomed change to Android. Doze mainly focuses on standby battery life, not overall usage, but it has shown to double the battery life on the Nexus 9. That's huge!
Doze essentially will be recognize when a device is not being used, and tone down everything to improve battery life. When Google says "tone down" what this means is apps won't update as often (like Facebook refresh periods) Gmail won't sync and look for new emails as often, and in general apps and things that wake up a smartphone or tablet and drain the battery will temporarily "doze" off for a moment, and preserve battery life.
However, Doze won't stop important things like text messages or hangouts, and we'll likely have control over how much our devices doze, in order to keep important things like Gmail or Facebook active. Tests have shown standby battery life doubled, which will transfer into overall better battery life.
With Android M Google's announced USB Type-C for easier and faster charging, quicker data transfer, and more. USB C connectors plug in either way, so no more flipping the charging cord. This also allows for faster data transfer, and you'll be able to charge other devices with your Android M powered smartphone or tablet. Is that a look at the new Nexus 5 for 2015 above? We'll see.
When users plug in a USB cable they'll be greeted with a new list of options in Android M.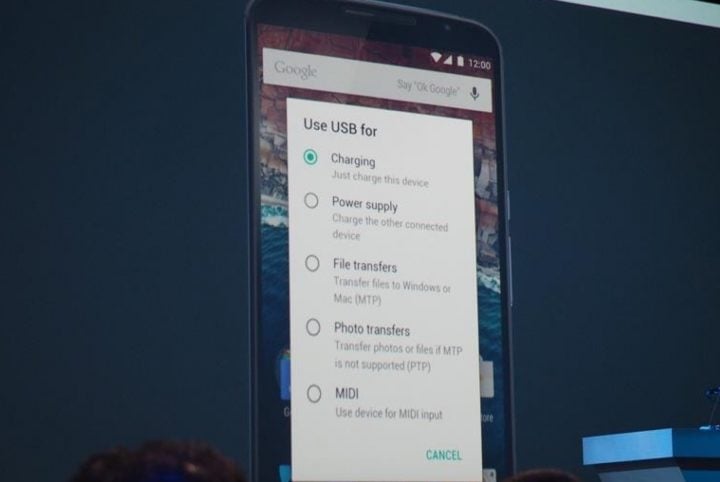 More Features
Google only brushed the surface of what's new in Android M, and briefly mentioned a few other things during the keynote. There's mention of a newly revamped setup for notification controls and volume sliders, as those were changed, arguably for the worst, in Android 5.0 Lollipop. Changing volumes will be easier in Android M. Google Now is even smarter and more powerful than ever.
Direct Share will let you share links, photos, videos, and more all through the powerful and popular Android share tool, but it's easier and smarter than ever before. It will learn what apps you share with the most and automatically suggest them first, and even remember who you share to, like your favorite contacts. Text selection, copy/paste, and undo features have been improvd. Making selecting text to copy easier than before. There is a new floating clipboard toolbar option, improved bluetooth low energy scanning, support for seven new languages and much more.
Release Date
So when can users get Android M? We're not 100% sure. This morning Google confirmed the Android M Beta or developer preview will be available later today on the Nexus 5, Nexus 6, Nexus 9 and Nexus Player, and the global release will arrive in Q3. The past two major Android updates have arrived in October-November, but the Q3 release promise has us hoping for an even earlier arrival of Android M.
We can expect the Android M Beta to be available today for developers, and hopefully all users willing to erase their smartphone or tablet and flash the factory image will be able to do so. Once we know more we'll update with download links, instructions to install Android M right now, and more. Stay tuned!

As an Amazon Associate I earn from qualifying purchases.