Android Market helps with Android version segmentation
Earlier this year, Chuong talked about Android fragmentation and how it could become a problem with Android becoming so popular. Unlike iOS and Windows Phone, Android devices are not held to a universal standard. Not only do we have different Android version, we have different CPUs, displays, and other varibles that can affect software compatibility.  Now we have Android 4 aka Ice Cream Sandwich coming, we have another level of software uncertainty. The are already list of apps being compiled listing apps that quit working with ICS. Enough about fragmentation, that argument could go on forever.
I am not sure if this is new or not, but the Android Market website tells you if an app is compatible with your device/s. If it's not new, I've never had a compatiblity issue before I guess. I have quite a few Android devices I can send apps to through the Android Market site and I just found one that gave me a warning.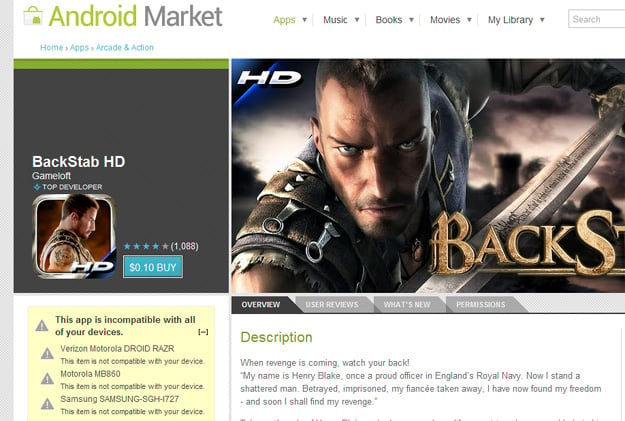 I have the Samsung Galaxy S II Skyrocket and the Motorola Droid RAZR and neither of them are compatible with one of today's 10 cent apps, BackStab HD.
I am impressed with this feature of the website. Being able to check compatibility and purchase and send apps to a selected device is top notch.
Don't forget to take advantage of the 10 cent, 10 Billion Download promotion. Some great apps have passed through this promo over the last few days.