Android Marshmallow Update Ultimate Breakdown
Now that we're nearly halfway through 2016, multiple smartphones in the United States and around the globe have received the update to Android 6.0 Marshmallow, and many users are looking forward to Android N. Here we'll be talking a look at HTC, LG, Motorola, Samsung, Sony and more Android Marshmallow updates progress, and sharing important details with owners.
In late September of last year Google finally unveiled Android 6.0 Marshmallow after a long beta test. It was released on October 5th and immediately sent out to Nexus smartphones and tablets. Instantly everyone went to work, and manufacturers like LG and Motorola were first to issue updates.
Read: Android 6.0 vs Android 5.1 Lollipop: What's New in Marshmallow
A few companies like HTC and LG were quick to make announcements, Motorola shared a small roadmap, while others like Samsung remained silent. Owners want to know when they'll get it and be able to try all the new features, and below is a collection of which phones (and tablets) will see Marshmallow, and everything we know so far.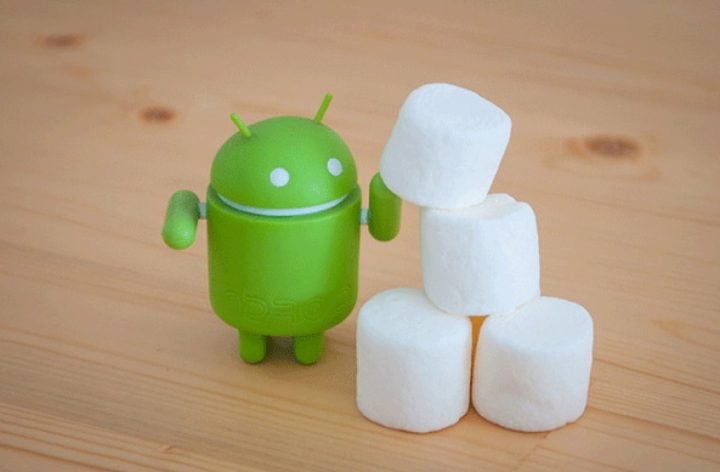 While improvements to performance and battery life are important, as are new features like Google Now on Tap, Doze or improved volume controls, security is a big one as well. Google's added monthly updates to its plans for security patches, and many manufacturers promised to do the same. Many arrive late, but most phones are now on Marshmallow with at least the April Google security patches.
Read: How to Install Android 6.0 Right Now
All the latest changes, new features, battery optimization and security enhancements will arrive with Android 6.0 Marshmallow, which is why it is such a popular update many are waiting for. We know how important updates are for owners, so below is a breakdown of devices in the United States that will or have received Android 6.0 Marshmallow. This is only a list of which devices, but we'll do our best to share details regarding when if it hasn't arrived yet.
LG Android 6.0 Updates
We'll start with LG, because they have been the fastest to Android 6.0 Marshmallow thus far. In October it arrived in Poland, just over two weeks after Google released the software, and it has slowly arrived for the popular LG G4 in India, Poland, Korea, and parts of the UK. And it took until January and February to rollout in the US. At this point all US LG G4 owners should be on Marshmallow, and most LG G3 users have received it as well. In late April or early May.
Read: LG Android 6.0 Update Problems & Fixes
Above is a link going over the update to Android 6.0 Marshmallow for mainly the LG G4, and some of the small problems or issues owners are facing. Most can be fixed, so give it a look if you're having problems.
LG G3 (rolled out in late April)

LG G4 (Done)

LG G4 Stylo
LG G Flex2
LG V10 (done)

Select Tablets (LG G Pad X8.3 getting it right now)

The Sprint LG G4 received Android 6.0 in the middle of December, and other carriers didn't get it until February or March. The LG G3 Android 6.0 update took longer. Verizon received it in February, but T-Mobile and AT&T didn't push it out until the first weekend in May. The same goes with LG Tablets.
Samsung Android 6.0 Updates
Samsung is up next because they're the most popular smartphones on the planet, and millions of users can't wait to get Android 6.0 Marshmallow on their Galaxy S5, S6, Note 5 and more, if they haven't already. Here is a detailed breakdown on what to expect along with every detail about each Samsung Marshmallow update.
On December 22nd Samsung started a Marshmallow Beta test in Korea and a few other regions, allowing actual users to receive it early, similar to what Motorola has done for years. In February Samsung kicked off the Galaxy S6 update, and at this point nearly every flagship Galaxy in the U.S. has received the update. To end May the Galaxy S5 update started, and even a few AT&T updates arrived. Sadly, AT&T Galaxy Note 5 owners are still waiting, but they're about the only ones.
Galaxy S5
Galaxy S6

Galaxy S6 Edge

Galaxy Alpha
Galaxy A7 and A8
Galaxy Note 4

Galaxy Note 5

Galaxy S6 Edge+
Galaxy Tab S2
Others could join the list, but we'll have to wait and see. It's worth noting the Galaxy S6 Android 6.0 Marshmallow beta test ended on January 18th, and Samsung sent it out the next week for select regions outside the US. It took until March and April for US carriers to deliver it, but it is better late than never. T-Mobile promised Marshmallow for the Tab S2, but that's yet to arrive.
Motorola Android 6.0 Marshmallow Updates
Motorola is another of just a few manufacturers who managed to get Android 6.0 out quickly. Many regions outside the US, and select US carriers, received it in December, while most others had to wait until early 2016. If you have a Moto X or G released in the past two years, it probably is already on Marshmallow.
The list of Moto devices is extremely long, so we'll try and keep it short for the sake of making things easier to read. Here's what we're expecting to see updated based on Motorola's claims, and official blog.
Moto X 2nd Gen (2014), Moto X Pure Edition (2015)
Moto G & Moto G 4G (2014), Moto G 3rd Gen (2015)
Moto Maxx, Turbo, DROID Turbo
Moto DROID Turbo 2, Maxx 2,
Moto E (2015), Moto G Turbo
Moto X Play
Moto X Force
Moto X Style
It is worth noting that while Motorola was one of the first manufacturers to issue updates, it was only Android 6.0 and not Android 6.0.1. We know many Moto E and Moto X Pure Edition owners aren't happy with their current update situation. Sit tight, and hopefully Lenovo gets it done.
HTC Android 6.0 Updates
While struggling with sales, HTC is one of the best when it comes to transparency and information about updates. The company revealed a roadmap back in October, delivered a few updates to unlocked devices in December, and most HTC One M8 and M9 owners stateside already have Marshmallow. The One M9 on Sprint, Verizon and T-Mobile were first, in February, but the M8 took until March and April. Everyone is now on the latest release, and HTC has already moved on to Android N.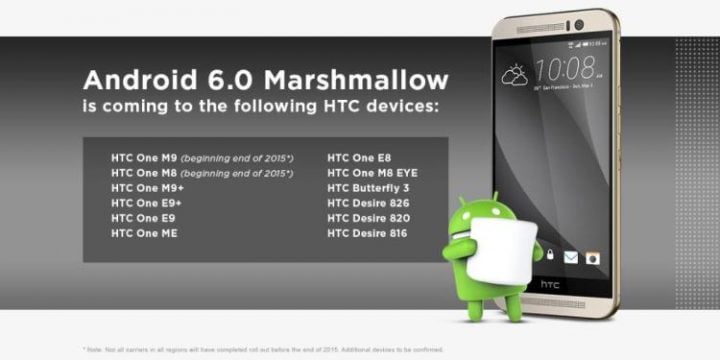 Here's more details from HTC. Rather than a big list the image above shows what phones were expected to get the update. It's worth nothing that most HTC One M8, M9, A9 users all are on Android 6.0, including the new HTC 10.
Last week during Google IO the company confirmed Android N would be released this summer, and HTC looks to be one of the first on board. They're already working hard on Android N, and have promised to deliver it as soon as possible to at least three devices.
Google Nexus Android Updates
Being a Google Nexus device, owners already have the latest Android 6.0.1 Marshmallow software. In fact, many are already on Android N. They'll be first to Android 6.1 or Android 7.0 (I'm thinking 7) later this year, and the first to get updates forever. Well, as long as the devices are supported. Here's the current list Google's updating, but eventually the Nexus 4 and Nexus 7 (2013) will be dropped from the update list.
Nexus 4, 5, 5X, 6, 6P
Nexus 7 (2013), Nexus 9
Pixel C Tablet
Nexus Player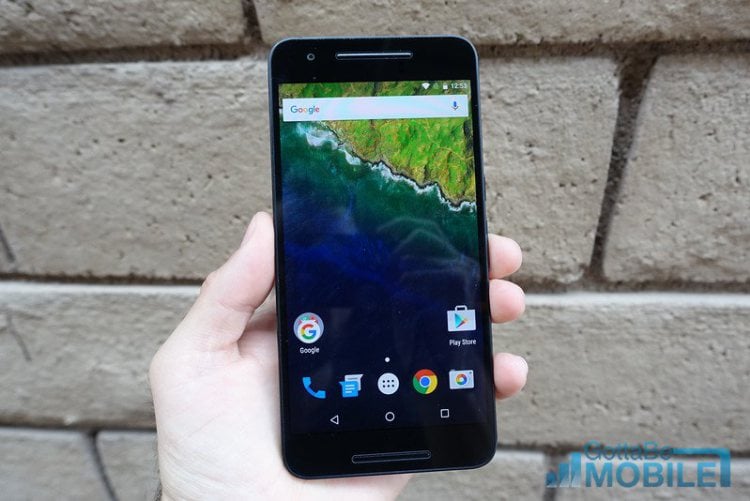 Select Google Nexus devices like the Nexus 5X, Nexus 6P, Nexus 6, Pixel C Tablet and the Nexus 9 are enjoying early previews of Android N already, with tons of new features. Android 6.2 or 7.0 "N" should be released this summer around June or July.
Read: Android N vs Android 6.0 Marshmallow: What's New & Different
Sony Android 6.0 Updates
Sony open sourced the Android 6.0 update, allowing developers and ROM makers from the Android community to build versions of Android 6.0 for select devices, which sped up the upgrade process. They're also the only manufacturer with developer previews of Android N. Sony isn't extremely popular in the US, but they do make great phones, most of which are all running Android 6.0 Marshmallow as we speak.
Sony Xperia Z Ultra GPE
Sony Xperia Z3 / Z3v, Compact, Tablet Compact
Sony Xperia Z2, Z2 Tablet
Sony Xperia Z5, Z5 Compact, Z5 Premium
Sony Xperia Z3+ / Z4
Sony Xperia C5 Ultra
Sony Xperia C4
Sony Xperia M5
Sony Xperia M4 Aqua
Those in the US with the Xperia Z3, Z3v, Z4 or even the Z5 received updates in February and March, which is nice. At this point, being May, most manufacturers are working hard on Android N and have already delivered Android 6.0 to owners.
OnePlus Android 6.0 Updates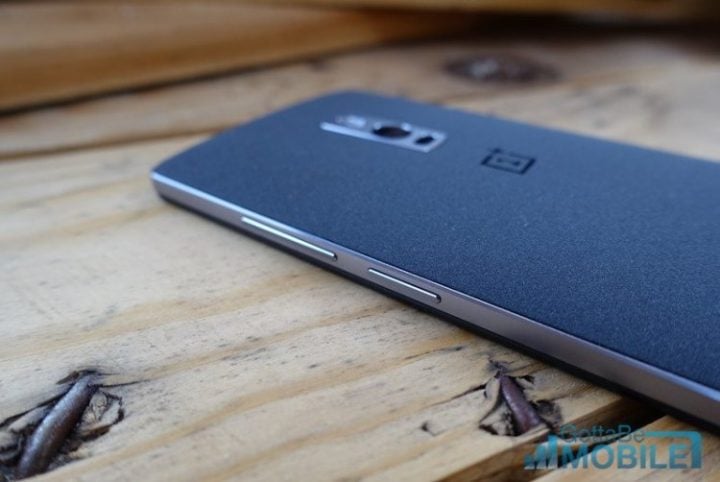 This company burst onto the smartphone scene in 2014, and made a lot of noise, for better or worse, in 2015. That said, they have a few decent phones that are popular, and will get updated soon. Here's the list.
OnePlus One
OnePlus 2
OnePlus X
Being nearly stock Android everyone thought OnePlus would deliver updates in a very timely fashion, but that wasn't the case. Like everything with this company, nothing lives up to expectations. Android 6.0 and their Oxygen OS arrived in April. It still has a few bugs, and the company is gearing up to announce the OnePlus 3 next month and it will arrive running Android N later this summer.
Huawei Android 6.0 Updates
Now we'll shift to a few brands that aren't as popular in the US, but do have phones here, or are sold unlocked. One of those is Huawei. They have some great smartphones, worked with Google on the Nexus 6P, and have a new Honor 5X that was released January 31st for $199 that many are loving. For current owners, here's the list of upcoming or already rolled out updates. Our goal is to list devices, not exact software upgrade days.
Huawei Mate 7
Huawei Honor 6
Huawei Honor 4X, 4C
Huawei Ascend G7
Huawei Ascend P8, P8 Max
Huawei Honor 6 Plus
Huawei Honor 7, 7i
Huawei Mate S
Huawei MediaPad X2
Huawei Ascend G8
ASUS Android 6.0 Updates
Trying to take on Motorola and LG in the budget market, ASUS has some excellent phones for under $249. They make a lot of electronics, but the Zenfone 2 released this year with great specs for $249 or $299 was really popular, and more are coming. They too, received Android 6.0 Marshmallow around the end of February.
While we don't have too many details from ASUS, we know they'll update most new devices. They made the Nexus 7 and 2013 Nexus 7, so worked closely with Google. Expect updates in a somewhat timely fashion. Here's the list based on what we know so far. Some Zenfone owners have received Android M in May.
PadFone S & X
Asus Zenfone 2 series
Asus Zenfone 2 Laser
Asus Zenfone 2 Deluxe
Asus Zenfone Selfie
Asus Zenfone Go
Asus Zenfone ZOOM
Other Android 6.0 Updates
Of course that isn't all the devices that will see updates to Android 6.0 Marshmallow in 2016, but some of the most popular ones. We can't list everyone, but if you have a relatively new phone, it should get an update. Even small companies like the ZTE Axon should see it. Tablets don't get as much attention, but some of those will see Marshmallow, and Android Wear smartwatches have been on Android 6.0 since earlier this year. In fact Android Wear OS 2.0 running Android N is coming this summer or fall with more features than ever before.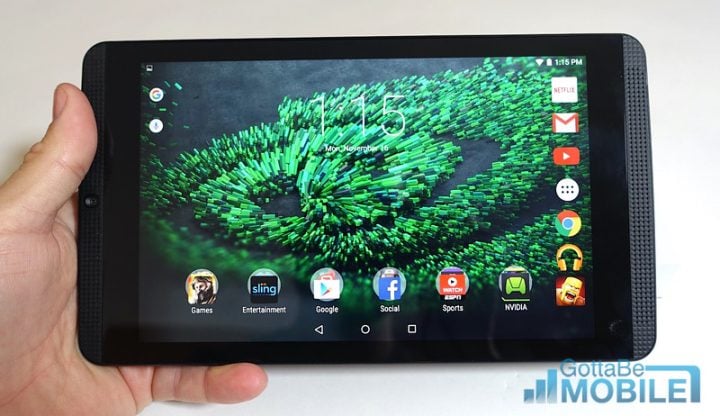 We can expect a host of Lenovo phones like the A7000 and Vibe series, the BlackBerry Priv, NVIDIA's SHIELD Tablet and K1, phones from Xiaomi or Alcatel, and even those BLU phones all over Amazon. There are countless devices that should see updates, but above was what we know so far about the more important devices in most US users pockets. NVIDIA updated the SHEILD Tablet and the K1 already, but and eventually the original SHIELD after a few delays. LG is pushing a few Android 6.o tablet updates out right now, and we're still expecting some of Samsung's Galaxy Tab S2 units to get Marshmallow at some point before this summer.
Now that Android N is out and in the wild, most manufacturers have started working hard on that, as it will be released this summer. Most signs are pointing to a mid-July release of Android N, which will be extremely exciting.
At the end of the day the update to Android 6.0 Marshmallow wasn't nearly as fast as many hoped for. Some Samsung owners are still waiting for it, but for the most part all major flagship smartphones released in 2014 or 2015 should have the latest and greatest by now. Stay tuned for more details about Android 6.0, and the upcoming Android N release. Also, in Android N Google made changes that will allow most phones released in 2016 to get future updates much faster. They're working hard to hold manufacturers reliable for updates, so expect good things as the year progresses.