Android on a Feature Phone May Not Work Just Yet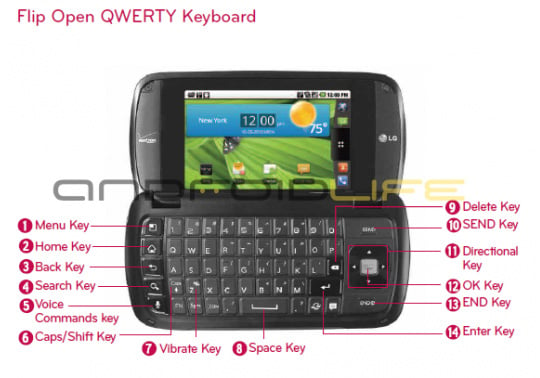 With Verizon Wireless said to have cancelled the launch of the LG enV Pro, an entry level Android smartphone that uses the enV Touch 2's chassis and will be part of the enV franchise, it seems that hopes for a low-cost, consumer oriented Android smartphone that will bridge the feature phone gap may not happen. The goal with Android, with its free to use mobile operating system provided by Google, is to have the OS be embedded in devices ranging from high end smartphones to low cost feature phones if possible as the OS is free. However, for whatever reason, the enV Pro has been cancelled, as reported by Android and Me, and for now a feature phone with a smartphone OS may not happen just yet.
A feature phone, essentially also known as a dumb phone, is more consumer geared, and comes in either a low-cost, low feature model or a higher end model with specs and capabilities that rival the smartphone offerings. On the other hand, smartphones are more capable, data driven and app-centric devices such as those that are powered by Windows Phone 7, BlackBerry, Android, iOS, Symbian, webOS, and MeeGo among others.
However, the significance of the enV Pro is that it has the familiarity and brand recognition of LG's and Verizon Wireless's other enV devices from the feature phone camp, yet can give the carrier more power to monetize with added services (such as VZ Navigator, mobile TV, and other offerings) along with the potential to lure users into digital content purchases from the smartphone side–primarily apps through the Verizon channel on Android Market.
With Android being offered as a no-cost free OS to use, many had hoped that the enV Pro may pave way to Android making it down the mobile phone ecosystem, inhabiting high-end models such as the HTC EVO 4G or Galaxy S, and even feature phone models, like the enV Pro. While Android and Me is citing that their sources say that the model was cancelled "after it failed to impress their testers," we're wondering if the conservative move on the parts of the carrier and manufacturer may prolong Android's penetration into the feature phone ecosystem.
Currently, many feature phones use either Qualcomm's BREW platform or a variation of a Java-based OS. Having Android as the underlying architecture could also help developers target youths or those who may not be a smartphone users with apps as those phones could potentially tap into Android's growing catalog inside Android Market.
What I think is missing from the enV Pro is a usability layer. Much like skins such as HTC Sense or Motorola's MOTO BLUR, a skin can hide some of Android's more advanced features and make it feel, look, and operate like a feature phone OS, provide a nicer user interface and appearance, and replicate the user experience on many feature phones. True, this may "dumb" down Android to a "dumb phone" level, but having this may make the transition easier for those who are new or unaccustomed to Android's more powerful and advanced features. Imagine the shock that an iOS user must feel if they had to navigate a phone with Windows CE or even Windows Mobile? A similar experience would be had with feature phone users who are getting Android unleashed upon them with the enV Pro without a heavily locked down, heavily skinned version of Android.
At any rate, those waiting for Android to appear on lower end handsets will have some more time to wait now that Verizon Wireless has put an end to a smartphone OS being used on a feature phone.

This article may contain affiliate links. Click here for more details.