Android Wear Lollipop Update Release Date Arrives
Owners of the Moto 360 and other Android Wear devices can expect new Watch Face customizations and more thanks to a new Android Lollipop update rolling out.
Google announced the new Android Wear update that's rolling out now, this morning, following weeks of leaks and speculation about when Android Lollipop – or at least some core updates – would arrive for the software that powers the LG G Watch, Moto 360 and more. ArsTechnica is reporting that after the update smartwatches running Google's mobile operating system are powered by Android 5.0 Lollipop not Android 4.4 KitKat.
With this update, Android Wear Watch Faces are directly available for download and purchase from the Google Play Store. These Watch Faces take advantage of new changes in this Android Wear update. Google showed a few of those Watch Faces off in the above image. Google is hoping that adding a standard way for developers to make their own Watch Faces will make it much easier to customize Android Wear. That's key since there are few things more intimately personal than one's watch. In addition to the Watch Faces API updates in Android Wear itself, Google has also updated the Android Wear companion app with options for browsing and downloading new Watch Faces. The companion app now supports battery and storage monitoring too.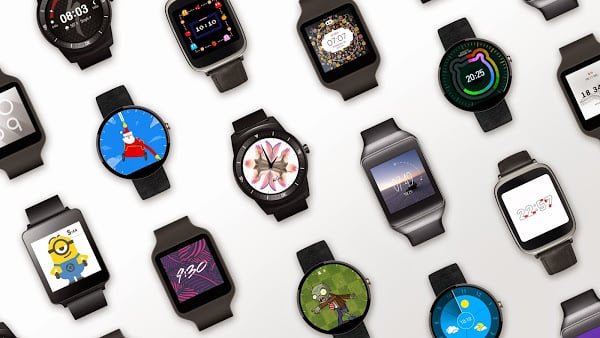 Google doesn't mention it in its post, by the Android Wear Lollipop update also has other changes. Before the update there was no way to bring back a Google Now card if it'd been dismissed. Now there is. Additionally, Google has added different moments for customizing Android Wear's behaviors in different situations. A new Theater Mode kills vibrations and turns off an Android Wear device's screen in situations when having a screen on is impolite. Sunlight Mode allows users to make content on Android Wear devices easier to see in broad daylight.
Android Wear devices are meant to act as an easy way to keep track of notifications and get the latest information. Sometimes that's not needed, and Google is addressing that problem by making it easy for users to block notifications.
Google says that owners of devices running Android Wear should find that they're prompted to update automatically over the next week. Separately, the update for the Android Wear app for Android is rolling out too.
Launched earlier this year, Android Wear is the operating system that Google gives away free to companies producing wearables. Google Now for Android Wear surfaces cards with information when it's relevant. Android Wear users can perform voice searches. The trick is that for now, Android Wear is meant as a companion to an Android Device. To get the most out of Android Wear users need to load their Android device with the Android Wear companion app. Android Wear pulls information from the Android-powered smartphone that it's paired to. It can't, for example, communicate with Google Now services without the help of an Android phone. Presumably, Android Wear will become less smartphone dependent as it matures.
There are six Android Wear devices available through the Google Play Store today. They include the ASUS ZenWatch, LG G Watch R, Sony SmartWatch 3, Moto 360, Samsung Gear Live and the LG G Watch. For how, Android Wear devices are about the only true entries in the wearables market worth purchasing. That being said, rivals also have their own entries. Microsoft's Microsoft Band allows voice search when paired with a compatible iPhone, Android phone or Windows phone. Apple recently announced its own entry into the smartwatch category. It's called Apple Watch. When Apple Watch launches next year it'll include Apple Pay functional, pairing with iPhones and even walkie-talkie support.
Read: 5 Android Wear Smartwatches Worth Waiting For
Google's partners also have a number of Android Wear smartwatches coming next year too.

This article may contain affiliate links. Click here for more details.