Angry Birds Coming to Windows Phone 7 and 3D Mobile Devices
Pocket-lint caught up with Rovio Mobile in Barcelona at Mobile World Congress and learned that the company is developing some new versions of its best-selling game. Angry Birds will be coming soon to Windows Phone 7, which may end up helping Microsoft move more units. Angry Birds will also be revamped for 3D handheld devices.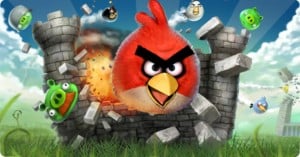 So what's so important about Angry Birds? The game generates commerce and can set an example for other potential Windows Phone 7 developers. Angry Birds consistently tops the charts of PAID apps and generates a fortune with its in-app purchases on iOS devices. It's difficult enough for app developers to get people to download and try their apps, much less pay for them. If Rovio Mobile can demonstrate that it's possible to earn a decent amount of cash on Windows Phone 7 devices, others will be attracted to the platform.
Of course there's a risk to bringing Angry Birds to Windows Phone 7. What happens if there's barely a blip of Angry Birds sales on Microsoft's latest mobile platform? What if we don't see a press release about the masses flocking to the game within a few days or weeks after the game launches? It will probably be a signal to other developers to concentrate their efforts for the time being.

As an Amazon Associate I earn from qualifying purchases.