Angry Birds USB Flash Drives Discounted At Staples
Angry Birds merch is out of control and everywhere, but no one is complaining about that. Those loveable birds and pigs can grace everything from plush toys to flip flops and someone will buy it.
And anytime there is a licensing opportunity in the air there will be flash drives.
Right now you can grab an 8GB USB drive in the shape of your favorite bird or pig for just $20 at Staples. Well, if your favorite birds include the black, yellow, red, white or blue birds.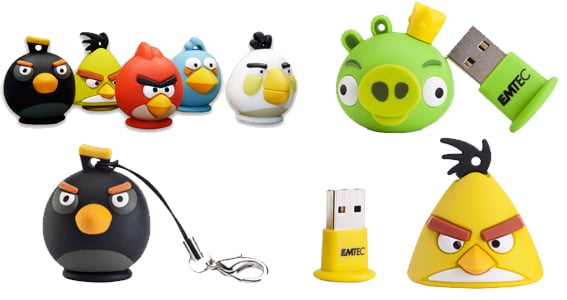 As Chip Chick points out there is no love for the green toucan. He is an odd shape. And really, is he anyone's favorite bird? Dealing with him is annoyingly difficult.
The Rovio online store has a bunch of other new merchandise, including felt iPad cases and a big Mighty Eagle plush toy. If you want to get a little more technical, there are always these Angry Birds speakers for smartphones and tablets.
Also, if you haven't already, update Angry Birds Seasons to get the new section: Year of the Dragon. The Chinese New Year was yesterday and the official year of the Dragon begins next month. Expect much Chinese and dragon-inflected fun.
So, GBM reader, be honest: how much Angry merch do you own?