Anniversary Windows 10 Update: Release Date & Features
Like lightning, that's roughly how Microsoft described its plans to deliver feature updates and new add-ons for Windows 10 last year. The operating system, available to everything through a Windows 10 Upgrade Offer, has seen its fair share of updates. None of them are like the Anniversary Windows 10 Update the company has scheduled for later this year.
For one, the Anniversary Windows 10 Update is larger in scope. Microsoft is promising a host a new features, not the smattering of slight updates that the company delivered with the Windows 10 Fall Update. Second, the Anniversary Windows 10 Update will usher in another round of app changes, visual updates and platform advances for anyone using a notebook, desktop or tablet with Windows 10 loaded on to it.
Here's what you need to know about the Anniversary Windows 10 Update.
Read: Windows 10 Review: A Love Affair
What is the Anniversary Windows 10 Update?
In the simplest of terms, the Anniversary Windows 10 Update is a free upgrade for your PC. It's a newer version of the software that your notebook, desktop or tablet is already running. It'll include new fixes for issues that annoyed early adopters, and it'll provide the latest in security updates.
Of course, things are a bit more complicated than that behind the scenes. Microsoft said when Windows 10 launched that it was transitioning the software to a different business model. Only those that need a fresh installation of Windows have to pay for Windows 10 right now. Anyone upgrading from Windows 7 or Windows 8 get the operating system upgrade for free.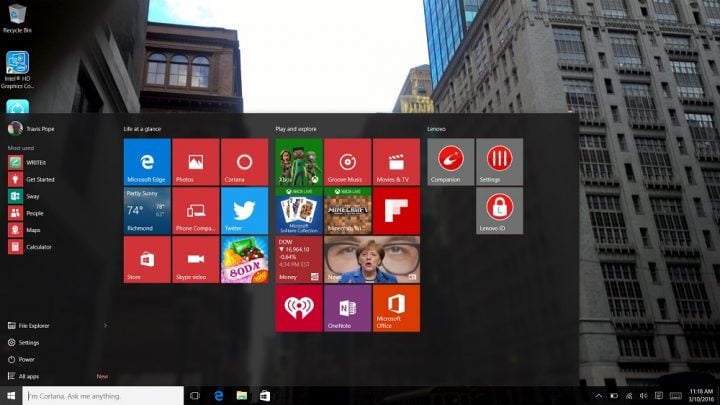 Its free price tag is great since the Anniversary Windows 10 Update will install itself automatically for the overwhelming majority of Windows 10 users. Windows 10 does give users the option to delay an update, but not to ignore it forever. When Microsoft made the decision to issue updates automatically, it was upgrades like the Anniversary Windows 10 Update that it had in mind. Those that get Windows 10 are guaranteed free updates for years.
If you've upgraded to Windows 10 already, you can expect this update. If you haven't upgraded to Windows 10 already, you'll need to by July 29th.
Read: Free Windows 10 Upgrade Offer: What You Need to Know Before It Ends
What's in the Anniversary Windows 10 Update?
Microsoft began talking about the Anniversary Windows 10 Update recently at its BUILD 2016 event. Held every year in the spring, the show is geared towards those that want to make software for Windows. It's because of that developer focus that we know some of the features users can expect.
Read: 6 Great Windows 10 Anniversary Update Features Revealed
Having firmly established the foundation for the Windows Store, Microsoft is committed to adding more to it. Program makers will be able to add their apps to the Windows Store using a simple conversion tool. This means that programs you typically download from the web, will start to arrive in the Store, complete with social media sharing and other features that only Windows Store apps deliver today.
For years, Windows was dominated by the mouse. Then, with Windows 8, the company added touch as an alternative. The Anniversary Windows 10 Update places a heavy emphasis on another input method: the pen/stylus. Called Windows Ink, new tools will let those with a stylus use Windows 10 apps complete with digital rulers and stencils. A dedicated pen panel gives users access to their most used pen-related apps and recommendations on other pen-friendly apps available for download. Handwriting recognition has improved too.
The Action Center, the dedicated notification area added in Windows 10, is getting a makeover. The notifications that surface there will now include big images and better presentation. The Action Center icon on the Taskbar will highlight which apps sent a notification so that users don't have to dive into the panel just to see what's going on. Live Tiles will allow users to go directly to whatever notification they surface. For example, tapping on the Mail Live Tile will take users to their new emails instead of just the app's home screen.
Cortana gets a big overhaul in the Anniversary Windows 10 Update too. She can now listen for commands above the lock screen, meaning you don't have to unlock your device first to ask her a question, set a reminder or make an appointment. The digital personal assistant and rival to Apple's Siri will come to more countries. Also, Microsoft is using the Cortana app as a way to let Android and Windows Phone users manage their pending notifications from their Windows 10 PC.
Confirmed Features
Updated Sticky Notes app
Network Connection Tester
Windows Ink
Pen settings inside Settings app
Single Lockscreen and login screen background
Cortana integration for Office 365
Cortana plays music from Groove Music app
Cortana integratin with Android and Windows Mobile
Cortana voice commands from the lock screen
Events in Calendar fly-out from Taskbar
Taskbar clock appears on all monitors
Taskbar settings moved to the Settings app
Set notification priorities so that apps you use the most get the most attention in Action Center
Action Center button in Taskbar alerts you to which app generated a notification and how many you have pending
Act on notfications in Action Center
Icons beside each setting in the Settings app
Updated Skype app for audio and video calls, plus Messaging app
Audio device management for two devices from the Taskbar
Updated Start with list of apps embedded
Redesigned Windows Store
Support for Xbox Play Anywhere, allowing users to purchase an Xbox One  game and unlock a Windows version.
Option to reset apps without uninstalling then installing again
Media controls on lock screen
Option to have Tablet Mode auto-hide the Taskbar when inside an app
Fullscreen app list browsing from Start in Tablet Mode
Updated support for high-resolution screens
Connect app supports interacting with Windows phones and Android devices
Text message syncing on Windows phones and Android devices
Bigger Images in Action Center
Quick Action re-ordering and removal in the Action Center
When Is the Anniversary Windows 10 Update Release?
You'd assume that calling it the Anniversary Windows 10 Update meant that Microsoft plans to release it to mark the first year of Windows 10's availability. That's decidedly not the case, necessarily. Publicly, the company had only confirmed plans to release the upgrade to users sometime this year.
Only in the last few days has Microsoft made its plans a bit clearer. the Windows 10 Anniversary Update will launch to users on August 2nd, the company confirmed in a press release.
We'll definitely hear more about the Anniversary Windows 10 Update soon.