Anniversary Xbox One Update: What to Expect
The Windows 10 Anniversary Update is the biggest thing happening at Microsoft all year. Going along for the ride is the company's Xbox One gaming console. For years, Xbox existed outside of the reach of the team that builds Windows. In 2015, Microsoft finally began to realize its dream of using one operating system across all of its devices; the New Xbox One Experience update last year brought Windows 10 to the Xbox One.  The new Anniversary Xbox One Update endeavors to link Xbox One to the rest of Microsoft in key ways.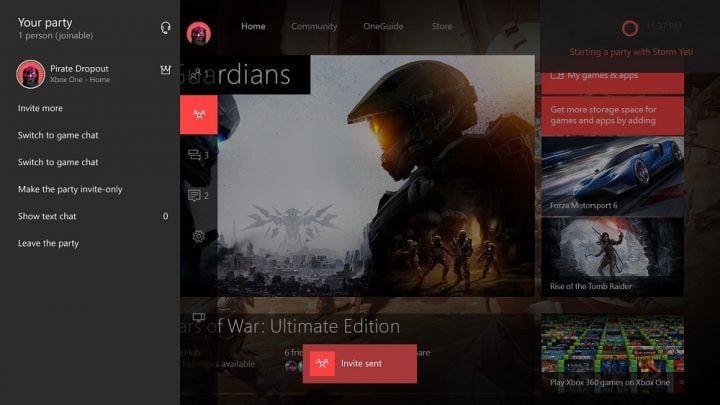 Read: PS4 vs Xbox One – All the 2016 Details
Microsoft revealed more about the Anniversary Xbox One Update at this year's Electronic Entertainment Expo, months after the software upgrade was first discussed at its BUILD 2016 show. Lately, members of the Xbox One Preview Program have gotten the chance to experiment with and provide feedback on the Anniversary Xbox One Update. All the hands-on videos, tutorials and details provide by testers give a very detailed look at what users can expect with the Anniversary Xbox One Update launches.
What the Anniversary Xbox One Update Will Improve
The Anniversary Xbox One Update strengthens its ties to the rest of the Windows 10 ecosystem through what Microsoft sometimes describes as One Store. If you've ever spent any time with an Android or Apple device you are familiar with the main point of One Store. It's Microsoft's hope to build an ecosystem that is anchored by a digital store that reaches across its different platforms.
The update introduces access to the same Windows Store that's available on notebooks, desktops and tablets today. Integrating the two is important since Microsoft lets developers build apps that work on anything that runs Windows 10. Video app VLC has been available in some form on Windows and Windows Mobile for months. Developers recently showed off a version made specifically for Xbox One.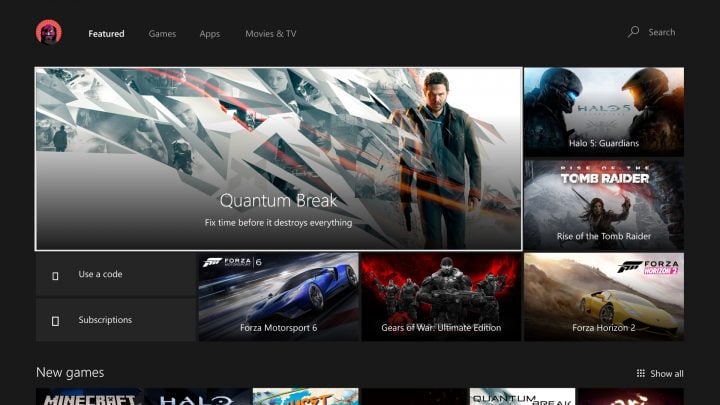 The benefits of Windows Store extends beyond apps. When users purchase titles labeled Xbox Play Anywhere, they unlock a compatible version for both Windows and Xbox One. Game saves and game progress sync between the two different versions, giving users the option to enjoy a game on the form factor that they like, without buying the same game twice. Every game that Microsoft makes will support Xbox Play Anywhere.
Read: Xbox Play Anywhere: What You Need to Know
Language regions are unlocked for all, giving users the option to choose a language that they have an easier time understanding independent of their current location. Pre-orders have changed, with Xbox Live now billing buyers of digital games 10 days from when their game goes live.
Cortana, the Windows 10 personal assistant, takes over voice command duty from Kinect. Besides searching the web for answers to pressing questions, Cortana is able to search Xbox Live for friends, sent party invites and dictate messages.
There's a new collection view for the My Games and Apps area that absolutely blows away its previous incarnation. Users can easily sort through games and apps with a few button presses.
Read: Summer Xbox One Update – What You Need to Know
Later in the year, Microsoft plans on releasing more big upgrades to the software again. Clubs will let users with similar mindsets create their own hangouts on Xbox Live.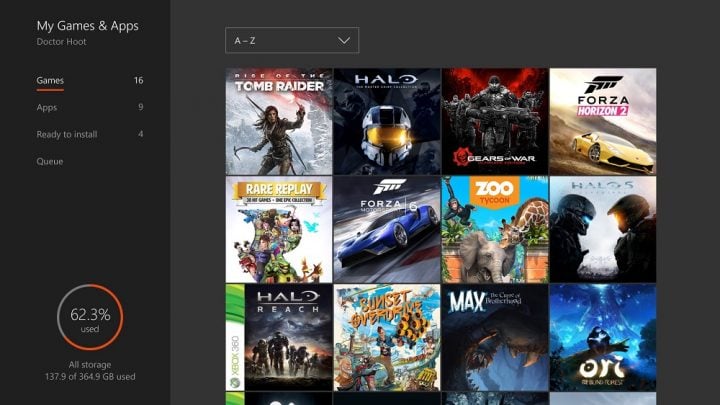 Already, the Collection area for My Games and Apps has proven invaluable. It's easier to find a game and easier to track downloading progress for a game too. Cortana and the Windows Store integration are still under heavy construction, which explains why users aren't necessarily impressed with either. The new Store has a simpler, more straight forward layout that's much appreciated. It just hasn't picked up any meaningful Windows Store apps yet. Cortana, has issues, but could be in great shape by the time the update launches.
What the Anniversary Xbox One Update Will Remove
With last fall's update, Microsoft removed the ability to control the Xbox One with hand gestures. The move was controversial at first, before Xbox One owners acclimated to their new reality. For the Anniversary Xbox One Update, it appears that Microsoft isn't removing a thing.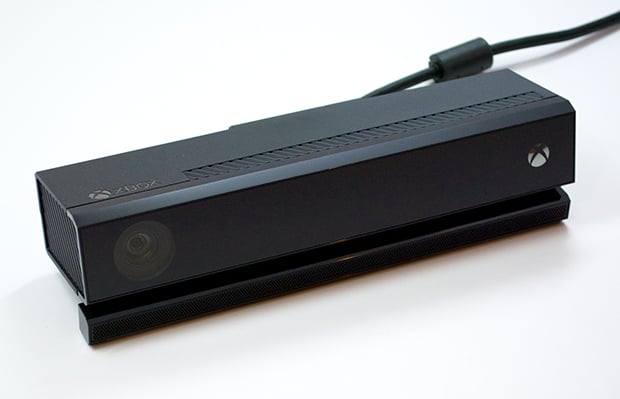 Some stuff, like the Coming Soon area in the games store, are on their way back. At some point, it appeared as if Microsoft would remove the original Xbox One Kinect commands for Cortana. Now, it appears that those commands will continue to work but with a requirement that users call Cortana instead of Xbox, according to Attack of the Fanboy.
Of course, this being an Xbox One Update, it's not as if users have the option to turn these features down. Microsoft recently made it so that Windows 10 users don't have an option to skip operating system updates, a mindset that seems to have started with the Xbox family of consoles.
When is the Anniversary Xbox One Update Coming?
Microsoft has publicly said that the Anniversary Xbox One Update will arrive for users sometime this summer. That meshes with previous moves, Microsoft makes updates available to users in the Xbox Preview Program roughly a month before they roll out to everyone else.
Read: 11 Exciting Features Coming in the Anniversary Xbox One Update
The Windows 10 Anniversary Update that the Anniversary Xbox One Update is based on, launches on August 2nd. It seems likely that the update will be on everyone's console around then.

As an Amazon Associate I earn from qualifying purchases.