Another CES Report: A quick look at the LG XNote C1 Tablet PC

Just when you thought that the GottaBeMobile.com coverage from this year's CES was done, we pull another video out! Actually, this one has been a bit buried in a process of my switching from one computer to another, so has just now been rediscovered!
There is a great story with this short CES InkShow. When we were on our trek through all the CES halls a CES, we had a number of targets to seek out, and the LG XNote C1 was one of them. We wandered over to their booth, quickly found the computer we were looking for, and began to do what any tablet PC enthusiast would do — we picked it up and started playing with it!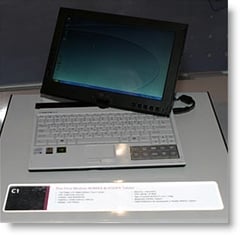 Well, obviously there is someone in the computer world who does not watch the news and InkShows at GottaBeMobile.com (gasp – imagine that!), because we were pretty quickly jumped on and asked not to handle the equipment. After a quick explanation of who we were and what we wanted to do (have them demo it for us on video), we somehow felt we had not convinced them to trust us. It was about that time that we realized the person we spoke with did not really speak any English per se, and we did not have a word of Korean! We did our little hand signals and repeated phrases for a while, and he finally agreed to let us handle and video the machine and answered a few questions.
So please excuse the somewhat sketchy information I covered in this review, the best info we had was what was printed on the booth placards. It is only a little over 3 minutes long, but I did want to at least put it up and let you get a good look at the machine. Other than the touchscreen (of which I am not very fond of), this was a very nice machine to play with and hold. It was lightweight, comfortable in my hands, and slightly bigger than the Fuji P1610 (which is just a tad too small for me personally). I think it fills a nice space between the full size and the smaller machines. Here are the specs:
Intel Dual Core ULV CPU

10.6″ Wide WXGA LCD

Windows XP / Tablet PC Edition

Touchscreen

Chipset: Intel 945GM/PM

Graphics: nVidia GEForce7300 GO

1GB Memory

80gb HDD

1.2kg (app 2.6 lbs)

Dimensions – Aprox. 10.7 x 8 x 1 inches

BlueTooth, HSDPA option

WIMAX option
Don't get too excited about this one though, it is not yet available in the U.S., but they did tell us that is should be later this year.
Enjoy the quick show!
Video: A quick look at the LG XNote C1 Tablet PC
All GottaBeMobile.com InkShows are sponsored by:

As an Amazon Associate I earn from qualifying purchases.