Another Cheap iPhone 6 Alternative Coming From Microsoft?
Leaks over the weekend may have given those shopping for a new smartphone this holiday season their first look at a coming iPhone 6 alternative from none other than Microsoft Mobile. That's the newly minted hardware part of the software giant that makes smartphones running the Windows Phone operating system.
Members of Weibo, a social network that's a lot like Twitter for Asian countries, posted images of a upcoming iPhone 6 alternative recently. The pictures seem to be authentic and the backgrounds inside the photos of the upcoming Microsoft phone match others taken from TENAA. Like the FCC in the United States, TENAA is charged with making sure that electronic devices sold to users don't interfere with each other.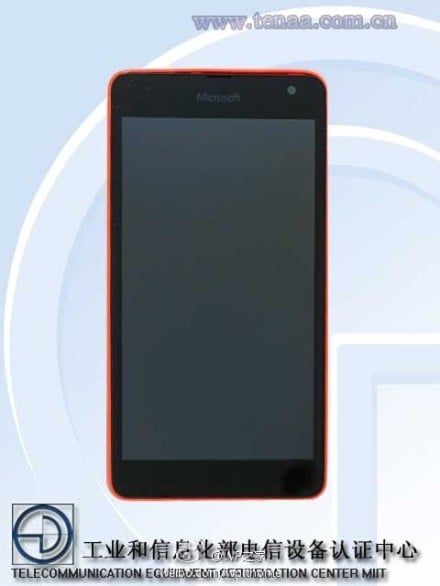 The pictures don't reveal the official name of the iPhone 6 alternative, but do reveal a model number: RM-1090. The front of the Microsoft made phone doesn't include any hardware buttons at all, indicating that buyers of the RM-1090 will need to rely on Windows Phone's software buttons to navigate around the operating system. What appears to be a power button and volume buttons sit along the iPhone 6 alternative's right edge. Both front and rear-facing camera are included as well.
Judging by its design and the lack of a physical camera button, it's likely that this device isn't meant as a head-to-head iPhone 6 alternative in the strictness sense. After all, it doesn't offer the high-end finishes of the iPhone 6 and appears to have a very large screen.
That being said, it's not hard to imagine that this is Microsoft's low-end answer to the iPhone 6 Plus. The iPhone 6 Plus is the version of the iPhone 6 with a massive 5.5-inch display and optical image stabilization for better picture-taking. Today, Microsoft offers the Lumia 1520 in the U.S. that device has a large screen but it's getting a bit old for the market. Microsoft originally launched the Lumia 1520 last year.
Having been foiled in its attempts to offer a high-end Windows Phone as a legitimate iPhone alternative that users will buy in droves, Microsoft has been aiming to offer similar experiences for its customers at rock-bottom price points. The RM-1090 looks awfully similar to the Lumia 630 that became available on T-Mobile and AT&T earlier this year.
Microsoft purchased Nokia's Devices and Services division earlier this year. When the RM-1090 arrives on store shelves it'll be the first Microsoft-made device to carry the company's branding. A few weeks ago Microsoft revealed that all smartphones it makes will be called Microsoft Lumias going forward.
Whatever it's named, that this iPhone 6 alternative is making its way to regulatory bodies hints at an imminent release date, probably before the end of the year. It's possible we could see a version of this phone arrive in the United States, but as it's not been caught going through the Federal Communications Commission in the United States, that's not a sure thing.
Read: Lumia 830 is the Latest iPhone 6 Rival Confirmed for AT&T
Thankfully, in the event that the RM-1090 doesn't arrive in the United States there are other iPhone 6 alternatives running Windows Phone to consider.
The last time the company discussed new smartphones running Windows Phone was back in early September when it showed off the Lumia 830. If the RM-1090 revealed in these pictures is a low-cost iPhone 6 Plus rival than the Lumia 830 is a direct competitor to the iPhone 6. It features a 5-inch screen and an aluminum edge that gives it a more high-end feel in the hand. It also comes equipped with a 10-megapixel rear-facing camera that uses PureView imaging technology. AT&T has already confirmed that a version of the Lumia 830 is on the way to subscribers looking for a new device on its network. Exactly when it'll arrive on how much it'll cost remains unclear.

As an Amazon Associate I earn from qualifying purchases.