Another Galaxy Nexus Custom ROM, Better Battery Life
A couple of weeks ago, I shared with you all a custom ROM and some modifications that I installed onto my Verizon Samsung Galaxy Nexus. The mods and the ROM took an awesome phone and made it fabulous. Unfortunately, I get bored easily and when I returned home from CES, after the slept catch up, I decided to change things up.
Before I talk about the new ROM, let me talk about battery life. For the 1st couple of weeks that I used the Galaxy Nexus, I was completely stock. I was getting around 4.5 to 5.5 hours of battery life with moderate to heavy usage. After I switched to the Android Revolution HD ROM, I saw a slight increase in battery life. After switching to this new ROM, I am seeing awesome battery life. I am still using the phone about as rigorously as before and nothing else has changed, so we have to chalk this up to the new ROM.
This look is quite different in some ways than what my other layout looked like. The folders are the same, the lack of Google search bar is the same, the tray icons are the same, but I am using a different clock and some new (but old) is added. Notice the software buttons at the bottom. With the stock ROM and my previous custom ROM, the search button was gone from earlier Android versions. This ROM adds this button and a persistent menu button. This ROM allows you to move all the buttons around as well.
The ROM is called Codename Android and I found it over on RootzWiki.
On the left, you can see the details of the ROM and other data and on the right, you can see one of the cooler modifications build right into this ROM. Check out the notification slide down near the top. Switches, including on to turn LTE on/off are part of the notification bar drop down. This allows me to free up some screen real estate using a widget to turn things on/off rapidly.
There are dozens of great mods included in this ROM which eliminate the need to load up 2-3 of the mods I had in place previously to accomplish a single change. This ROM also includes an alternate launcher which allows you to increase your home screen grid as well as remove the persistent Google search bar. I still prefer to use Nova Launcher, which has been updated 4-5 times over the last week.
For all this ROM offers, there is one feature that the author isn't talking about really. BATTERY LIFE. It might be complete coincidence, but since moving to this ROM, I am getting awesome work days out of the Galaxy Nexus.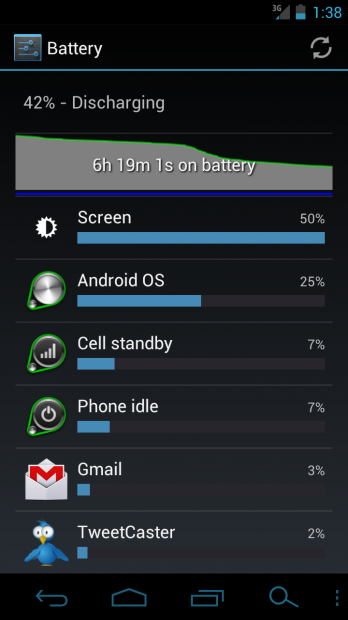 I am starting to see battery life like this on a standard battery. I was near dead at this point previously. I don't have screenshots of other days, but I am getting 10-12 hours on a charge now.
I am not saying that everyone needs to run out and hack their Galaxy Nexus to get better battery life, but if you are into custom ROMs, you might want to give this one a look.

As an Amazon Associate I earn from qualifying purchases.