Another OneNote 2007 Powertoy: SendToOneNote
The other day I linked to Dan Escapa's OneNote Extensibility & More Blog with news of two new OneNote Powertoys. Today, Chris Pratley lets us know that another Powertoy is available and I'm very glad to see this one released.
Send To OneNote adds that command to the right click menu allowing you to send any document or file into OneNote. Everything goes into the Unfiled Notes Notebook at the moment and there is no configurability there. But this is a handy addition to any OneNote user's arsenal.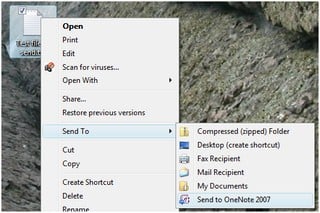 Check it out here.

As an Amazon Associate I earn from qualifying purchases.