Ant-Man: 3 Things Viewers Need to Know
Ant-Man is releasing in theaters today, and here's what you need to know if you're planning on seeing it this weekend.
Ant-Man is about a guy named Scott Lang who, when putting on a special suit, can shrink down to the size of an ant, yet still condone the power of super-strength. Of course, Ant-Man is tasked with saving the world, but a couple of enemies get in his way.
Ant-Man is Marvel Studios' latest film following Guardians of the Galaxy, which released last year. Ant-Man features Paul Rudd as the main character, marking the comedy actor's first dip into the superhero genre. The film also features other familiar names, like Michael Douglas and Corey Stoll (who was in the first season of House of Cards).
Ant-Man also brings back Hayley Atwell as Peggy Carter and John Slattery as Howard Stark, who have both been featured in past Marvel films, and since many of the Marvel movies cross into different Marvel movies, we're not surprised to see characters from other Marvel films featured in Ant-Man.
If you're interested in seeing the movie, here are a few things you'll want to know before you head to the theater.
Ant-Man Reviews
If you want to figure out what your expectations should be going into the movie, you can check out reviews of Ant-Man on a variety of movie websites.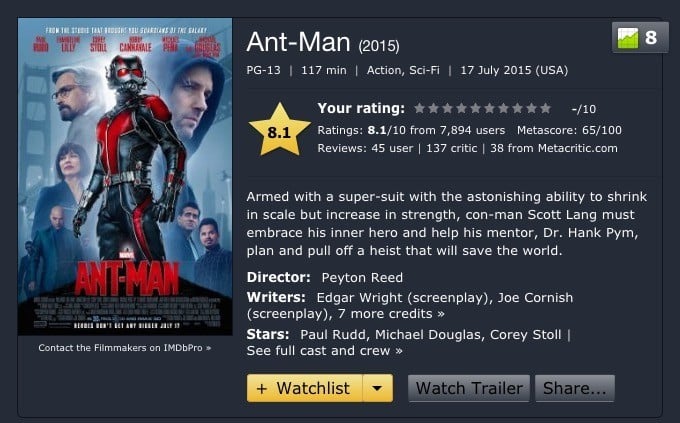 IMDb, Rotten Tomatoes, Flixster, etc. are all good apps to check out and read movie reviews. You can see what critics thought of Ant-Man, as well as see what regular movie-goers thought. Plus, you can even read reviews that other viewers have posted, perhaps giving you a better idea of what to expect.
It's important to take reviews with a grain of salt, though. Other people's opinions about the film may not match up with your own. However, at least checking out the overall ratings can give you a good idea of what the majority of viewers thought of the movie.
Currently, Ant-Man has a rating of 8.1/10 on IMDb, which is actually pretty good, and that rating is based on over 7,000 people who rated the movie.
Buying Ant-Man Tickets
You can buy tickets when you get to the theater, but that's old-school. Instead, you can buy movie tickets right on your phone and even use the tickets digitally at select theaters.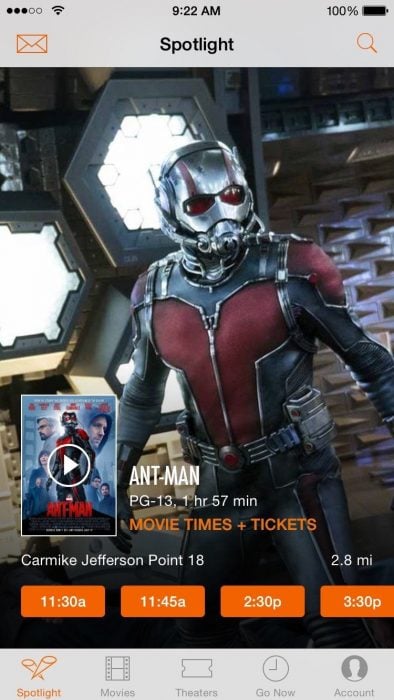 The Fandango app allows you to purchase movie tickets right on your smartphone, and then depending on the theater, you can simply pick up your tickets right at the box office or some theaters even have scanners that can scan the digital ticket on your smartphone.
Gone are the days of having to wait in line to buy movie tickets, and you can now use the precious time to decide how big of a popcorn container and soda you want to buy at the concessions. Movie tickets are simply one thing that haven't really moved into the 21st century, and while Fandango is trying to make that happen, many people still don't really know about it.
However, that just means you have the advantage and can skip the line with all of the luddites.
Getting to the Theater
It's probably safe to say that you know where the movie theater is in your area, but you're curious about traffic and aren't quite sure how long it will take to get to the theater from your current location, it might be best to consult Google Maps, which offers live traffic info and tells you when you'll arrive based on the current traffic situation.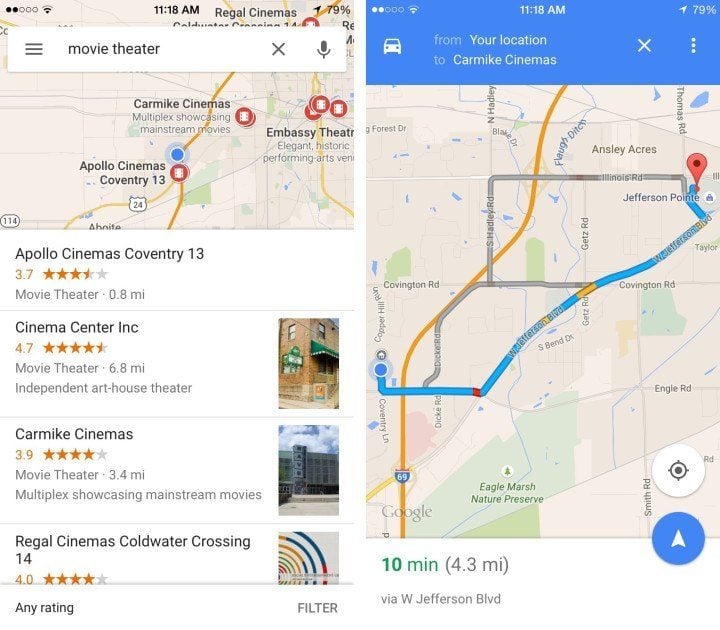 The app will give you turn-by-turn directions to the nearest movie theater and it can also tell you when your estimated arrival time will be. This is especially handy so that you'll know if you'll be late for the movie or not, and it will also give you a quick idea of how much time you'll have at the concessions and whether or not you'll have time to use the restroom beforehand.

As an Amazon Associate I earn from qualifying purchases.