Anyone want a 19″ e-ink display?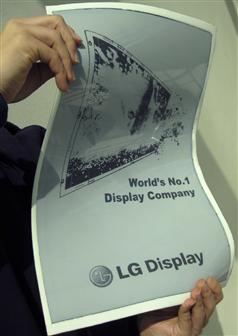 As Sumocat showed us in his CES coverage, we are getting ready for an onslaught of e-readers this coming year. Â We are going to get them in every size, shape, color and price point. Â Their one common factor, screen size. Â Aside from the Kindle DX, the average e-reader display is about 6 inches. Â Well, what if we want more? Â What if we want an e-ink display the size of an average newspaper? Â Or a small whiteboard?
Well, the folks over at LG Display have come to our rescue with a 19″ e-ink display. The specifications on this: Â 0.3mm thick, measures 250 x 450mm, and weighs 130 grams. Â Not too shabby.
According to the post from Geek.com:
Jae Chung, CTO and executive VP of LG Display, said:

Our development of the world's largest flexible display has opened up a new market in the next-generation display sector of e-paper. As the e-paper market is growing at a rapid pace, LG Display will continue to deliver new value to customers and the market through industry-leading technologies and differentiated products.

LG hasn't announced when a 19″ flexible e-paper gadget will hit the market but an 11.5″ version is expected to see a release before the middle of 2010.
Anyone want one to hang on the wall of an office? Â Or as a new desk blotter?