AOL Editions Tries to Make Reading Online News More Fruitful and Magazine-Like
AOL Editions is another tablet app for grabbing news and presenting it in a magazine-like fashion. The company calls it the "App for When You Crap" in their silly promo video (see below). Our own Warner Crocker likes the idea of bringing your tablet into the Loo to get some much-needed short form reading done, and I've been following the example lately with my ASUS Eee Pad Transformer.
However, I don't think these pretty magazine apps are that useful. They are pretty, but I prefer a more traditional RSS app like Reeder, which interfaces with Google Reader and syncs your reading history so that you only receive the latest unread content on both the iPad and a Mac. These apps don't sync with your account. You will have to wade through content you've already read if you open it up more than once a day.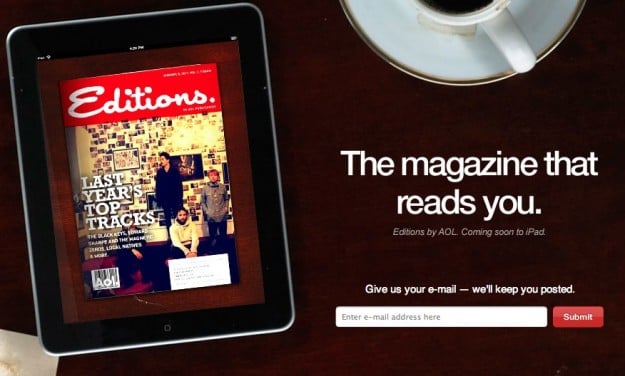 Scheduled to debut some time soon, AOL Editions might be a good bathroom (or other location) reader app since it is designed to pull a few dozen stories into the app from various subject areas, like top news, tech, business, sports and travel. The makers want you to use it like a newspaper: which is read or scanned in one sitting. Local news shows up after you personalize the app with your zip code. It learns what you like based on what you read. Users can approve or disapprove the stories by tapping the check mark or X next to a story, helping the app learn your preferences. That is why the real tag line for AOL Editions is "The App that Reads You". The more you use it the more it will learn your tastes.
The idea of a daily tablet newspaper app inspired Newscorp, the company headed up by Rupert Murdoch, to produce The Daily to much fanfare, but also much criticism when it seemed too newspaper-like and didn't utilize what makes net connected tablets so valuable. Our quip was that it should be called the "Yester Daily" as the content was often old news by the time it showed up in the app.
I like the news reading apps that let you control the content by subscribing to news feeds via RSS. Install Reeder if you are a Mac or iPad user and then set up a Google Reader account. Windows users can find a native RSS app for their platform or even better just user the Google Reader web site. I haven't found an Android app I like yet.
With a Google Reader, whenever you see a page that has RSS, click to subscribe. The majority of these sites will have a link to add the feed to your Google Reader account. Open your favorite Google Reader syncing app on your computer, your iPad, Android device, smart phone or just through the Google Reader site and when you click on a story to read it the story will be marked read. You won't be bothered with that story again.
Most of these kinds of apps have ways to share the content with Twitter, Facebook, bookmark it on your favorite site for marking content you'd like to read later like Instapaper, Delicious or Read It Later.
Like The Daily, some of the complaints I've seen about AOL Editions is that the content gets stale, a huge weakness for the always connected Internet savvy user today. There is no excuse for this except poor app design.
Source: Tech Crunch

As an Amazon Associate I earn from qualifying purchases.