Apotheker Out, Whitman In As New CEO of HP
The Leo Apotheker experiment at HP is over just shy of a year after it started and the fledgling company has installed former eBay CEO and California Gubernatorial candidate Meg Whitman as CEO. The move comes just weeks after the company made several big moves including killing off its HP TouchPad tablet and webOS powered smartphones, devices that were to be the crown jewel of HP's buyout of Palm.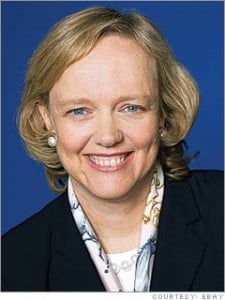 Apotheker, according to reports, had been unaware of HP's plans to remove him as CEO until word of his impending ouster came up to the surface in a series of reports yesterday.
After being ousted as CEO of SAG AP, Apotheker had been at the helm of HP since November of last year and has presided over the company's 47% stock market plunge. He has also come under fire for HP's $10.3 billion deal for Autonomy Corporation.
As for Whitman, she presided over eBay as CEO from 1998 to March 2008. Prior to that, Whitman held executive level positions at Hasbro Inc., The Stride Rite Corporation, FTD, Inc., The Walt Disney Company, and Bain & Company.
She was also the director of The Procter & Gamble Company from 2003 until 2008 and at DreamWorks Animation SKG from the years 2005 to 2008. She relinquished her roles in 2008 in an effort to run for Governor of California in 2010, a race that she lost to Democratic nominee, Jerry Brown.
She has also been on HP's board of directors since earlier this year.
Whitman stated that she is  'honored and excited to lead HP. I believe HP matters – it matters to Silicon Valley, California, the country and the world.'
And, speaking on behalf of HP's board, Ray Lane stated that:
We very much appreciate Léo's efforts and his service to HP since his appointment last year. The board believes that the job of the HP CEO now requires additional attributes to successfully execute on the company's strategy. Meg Whitman has the right operational and communication skills and leadership abilities to deliver improved execution and financial performance.
Lane was promoted to executive chairman.

As an Amazon Associate I earn from qualifying purchases.