App Bundles Are How iPhone Users Will Save
With the introduction of its iPhone 6 and iPhone 6 Plus devices just hours away, Apple is revealing every last trick it has to make the iPhone and iPads the best in their class. Yesterday Apple started letting iPhone 5s, iPhone 5 and iPhone 4s users download iOS 8, its newest operating system. Now the company is introducing iTunes App Bundles, easy ways for users to save a ton on multiple applications.
iTunes app bundles began appearing in the iTunes App Store this week after Apple unleashed its iOS 8 operating system on older iPhones. They stand to revolutionize the way users pick up apps. App bundles are sort of like real stores' Buy One Get One Free promotions. In exchange for paying one flat rate, iPhone and iPad owners can get multiple apps that match a certain theme. The idea is to make it both easy and economical for users to get their hands on the best apps. The easier and more economical it is, the more iPhone, iPad and iPhone users will buy.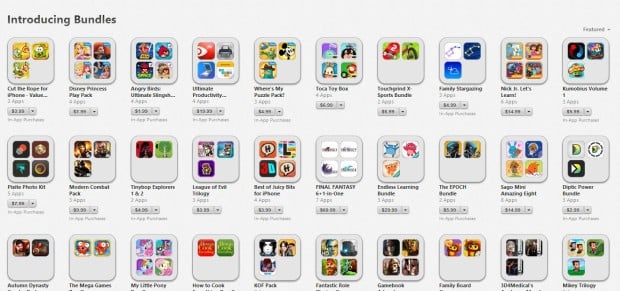 Apple first said that it had plans to make bundles available to users this month. App bundles are accessible through the iTunes Windows and Mac apps by navigating to the store and clicking on the apps showcase. There's a huge banner that highlights all the current iTunes App Bundles available. Finding bundles on the iPhone and iPad versions of the iTunes App Store are as simple as going to the App Store and scrolling down on the Featured page.
In theory, App bundles are cool, but will only catch on if there are some neat bundles offered. Current App Bundles include every version of Cut the Rope for iPhone for $3.99, the Angry Birds: Ultimate Slingshot Bundle for $1.99 and the Family Stargazing Bundle for $4.99. Some bundles do get rather expensive. For example, Nick Jr. Let's Learn Bundle is $14.99. The Gamebook Adventures Mega Bundle costs a whopping $24.99.
To drive the savings home, each Bundle page includes a list of which apps are included and how much they'd cost if purchased individually from the bundle itself. For example, simply by glancing at the page for the Gamebook Adventures Mega Bundle I know that buying each app individually would cost $53.91.
Apple isn't forcing these bundles on users. Instead, it's making bundles available as a tool for developers. Presumably, as time pass we'll see more and more app bundles arrive in the iTunes App Store. That's hardly a sure thing though.
Since revolutionizing the smartphone app stores with iOS 2 and the iPhone 2, Apple has been slow to pick up on new trends in the industry. Digital bundles first gained notoriety for acting as a promotional tool for games on Steam, a video game purchasing service. Bundles for Mac apps were pretty big for a time too. To date, the iTunes App Store is the only smartphone and tablet app store to allow developers to bundle different applications.
Neither Android's Google Play Store nor Microsoft's Windows Phone Store allow users to purchase apps in bulk. That being said, Apple has bundled other types of content together for a long time. Last summer the company sent users running for their credit cards when it posted a very, very cheap Harry Potter film bundle. It later turned out that the bundle's pricing was a mistake, but it proved just how big the appetite was for a new way to save on digital content.
In addition to revealing iTunes App Bundles, Apple also added a new way for developers to promote their games. Starting with iOS 8, developers can upload app previews to the store and demonstrate how their games and apps work. Really, app previews are simple videos that launch from the App Store when tapped. Google's Android operating system does offer a feature comparable to that.