App Shopper Recommendation App Returns With Social Integration
Months after Apple removed it from the App Store, App Shopper is back with a new app that follows Apple's guideline by being entirely social.
The new App Shopper Social is all about finding apps that your friends or people you follow use, like and recommend. While the previous version of App Shopper curated apps for its users, launching the new app opens an empty feed where the app suggests that users follow App Shopper to get recommendations.
App Shopper Social asks users to follow users to see the curated lists of apps they like. The app also features curated lists from 148Apps, Touch Arcade and Mac Stories, all respected Mac- and iOS-centric publications.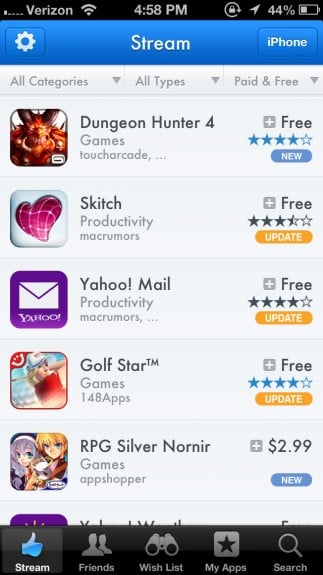 To make the process easier users can link their Twitter accounts to the app so they can see what apps the people they follow recommend. It makes it much easier than manually inputting friends into the app.
The app includes the average App Store rating for every app, as well as ratings from Touch Arcade and 148Apps. Users can either manually search through the app to mark every app they own, or they can use an app for the Mac or PC to import all of their apps into the service. That app is found at this website.
The importer will likely add a number of forgotten apps for those who don't curate the apps they have on their computers very often, however.
Users have to manually add apps to their wish list through the app, if there are any apps they're waiting to pick up. App Shopper Social can alert users when apps int heir wish list are on sale through a push notification, which makes the list useful for those who want to save a bit of cash on their apps.
Apple removed the first version of App Shopper from the App Store late last year because it violated a guideline that prohibits apps that are "similar to or confusing with the App Store." AppGratis was recently removed for violating the same guideline as well as abusing push notifications for promotions.
App Shopper Social shows there is room for ways to do app curation without violating Apple's guidelines. AppGratis and others like it will have to find their own way around the guidelines if they want back in the App Store.

As an Amazon Associate I earn from qualifying purchases.