AppGratis Promised Higher App Store Rankings, Claims Leaked Document
A leaked document given to Business Insider from a developer that dealt with AppGratis seems to prove the company promised higher App Store rankings to those who advertised in AppGratis.
The document shows a list of countries and where a buy through AppGratis could land an app in App Store rankings in those countries. A $100,000 buy would get the app into the top five in the App Store rankings in the U.S., for example. The document could show how what AppGratis promised to developers who were willing to pay for featured spots in its app.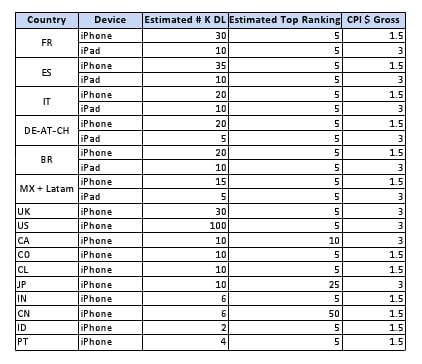 The leaked document doesn't match up to a quote AppGratis CEO Simon Dawlat gave TechCrunch yesterday. Dawlat told the publication that AppGratis isn't "in the business of gaming the top charts or anything." He did, however, acknowledge that it's easy for advertisers to figure out how to get to the top of the App Store rankings.
Getting to the top of the App Store rankings generally means more installs for apps, which means more money for developers. It would make sense, then, that developers with deep enough pockets would spend their way to the top. AppGratis is allegedly one of the ways developers could spend their way to the top.
Apple, however, wants the App Store rankings to remain fair and democratic, where the best apps rise to top, not the apps from developers with the deepest pockets. Getting rid of AppGratis and other apps like it can help prevent developers from gaming the App Store rankings.
That logic could explain why Apple pulled AppGratis from the App Store, and why it allegedly has plans to pull other apps like it from the App Store. Apple's initial ruling didn't make much sense as other apps do things that Apple punished AppGratis for. Not all of those apps can propel apps to the top of the App Store rankings for $100,000, however.

As an Amazon Associate I earn from qualifying purchases.