Apple Adds More Features to Maps App on Latest iOS 6 Beta
The third beta of iOS 6 delivered by Apple to developers on Monday comes with new features added to the Maps app. With iOS 6, Apple will make the move away from its partnership with Google in the mapping space in favor of a robust in-house solution that will no longer rely on Google Maps for data.
Features in iOS 6's Maps app include a flyover of cities with 3D renderings of buildings, Siri-based voice guided turn-by-turn GPS navigation, and crowd-sourced traffic information.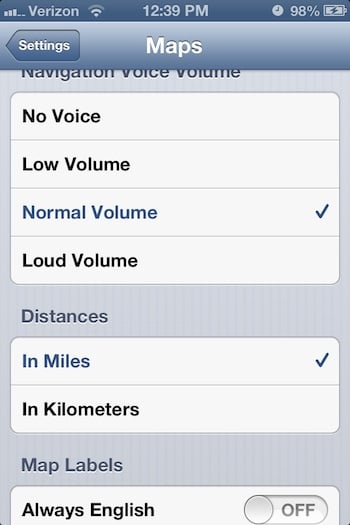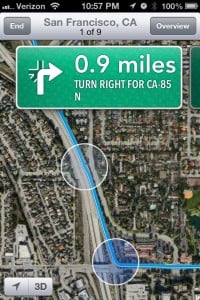 According to the latest report on Apple Insider, Apple is looking to add more features and fine tune its new iOS 6 Maps app. In the third beta, users can find that they can now adjust the volume of the voice-guided turn-by-turn navigation independent of call volume settings. Additionally, users can have distance displayed in miles or kilometers now.
iOS 6 is expected to debut officially to consumers later this Fall alongside Apple's new iPhone announcement. So far, it is being seeded to developers currently for testing and Apple is not yet allowing consumers to download iOS 6.
In the past, Apple had offered features in early betas but also removed features when the final software was released. While these improvements on the Maps app seem to be a natural fit and progression of the Maps app, there is still no telling if these latest improvements on beta 3 will be retained by Apple this fall when the final software gets released to consumers.
There is also speculations that Apple may also port the mobile Maps app to users of its OS X platform on the desktop.
Other notable changes in the beta 3 of iOS 6 reported by MacRumors include:
– Roadwork and traffic accidents showing up in Maps app
– Answer and Decline buttons for FaceTime calls have returned
– iMessage on iPad now accepting phone number as valid contact info
– Greater 3D Flyover coverage in Maps
– Glyphs for bookmarks, Reading List, and history in Safari
– Auto-brightness changes gradually

As an Amazon Associate I earn from qualifying purchases.