Apple Admits Apple TV Wi-Fi Problems: How to Get a Replacement
Apple admitted that some third generation Apple TV models suffer from Wi-Fi connectivity issues. Apple will replace the included devices at no cost to users if the user's device qualifies according to specific criteria.
According to 9to5Mac, Apple sent word to their store employees, third-party retailers sanctioned to sell Apple products and workers with AppleCare tech support centers. Users with Apple TVs that struggle to find a Wi-Fi network, connect to the network and remain connected, will get a replacement.
The user must own a third-generation Apple TV running the latest version of the device firmware (5.2.1). The Apple TV must also suffer one of the following symptoms:
Failure to locate a Wi-Fi network when one is present
Inability join an available Wi-Fi network
Experiences "dropped or intermittent connections" to a Wi-Fi network
Apple said that this doesn't affect more than just a small percentage of third-generation Apple TV set-top boxes. However, if a person's device does exhibit one of the above, they can bring it to a local Apple Store. If that's not possible, then the person can call Apple Care's support phone number for the user's locale and arrange a replacement. People can find the number on Apple's support page.

Before calling or bringing an Apple TV in for replacement, an owner should check the device's serial number and compare it to Apple's list of potentially affected devices. From the Apple TV main screen, go into Settings. Choose General and then About. Look for the Serial Number, the third item down the list. First, the serial number must end in the letters DRHN. Then look for the fourth and fifth letters.
According to MacRumors, Apple mistakenly told their support staff to ask for the third and fourth letters in the device's serial number, as the image of the above document suggests. Apple confirmed this was an error and users should find the fourth and fifth letters instead. Apple will replace devices with the letter combinations listed in the image above.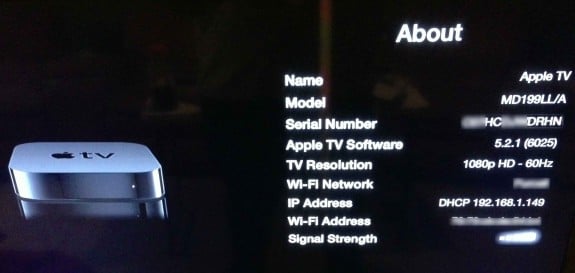 We experienced connectivity issues on one of the Apple TVs we own. Fortunately, our device qualifies for replacement and we'll contact Apple soon to get one.

As an Amazon Associate I earn from qualifying purchases.