Apple Aims to Revolutionize Learning with iBooks 2, iBooks Author and iTunes U Apps
Apple wants to revolution education with iBooks, iBooks Author and a new iTunes U app, announced today at a special live event in New York hosted by Apple's Phil Schiller. Phil and friends showed off these three apps with an impressive vision of making multimedia rich interactive books for school children and university students using the iPad as the hub.
Most of us sat in a high school biology class and read from an old, dog-eared, marked up textbook that included outdated material form twenty years ago. The teacher had to show film strips or videos on old film or VHS tapes.
If you were lucky enough to go to school in the last ten or fifteen years, then you remember using a computer or two in your classroom to go online and check out more up to date information. Students packed up their schoolbags with fifty pounds of books to carry home and study, or just sit in the bag as most of mine did. This model prepared them for life in the sixties or seventies.
That was my experience, except I went to school mostly in the eighties.
iBooks Textbooks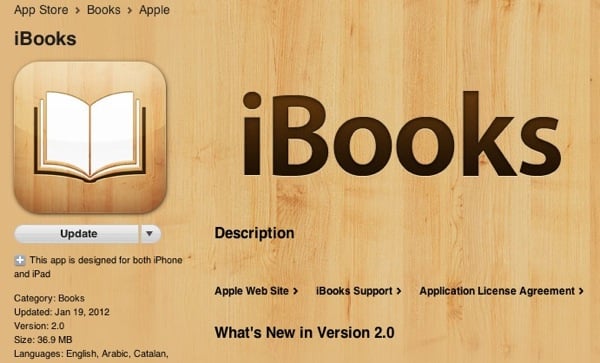 Apple's vision has an iPad in the hands of every student with iBooks 2 textbooks showing them rich interactive content created on a Mac computer through their new authoring tool.
Schiller and friends demonstrated the new textbooks. You can use them like traditional books with text and pictures. They even support page numbers so the teacher can say, "Turn to page 57 in your biology book" and everyone will be on the same "page". However, they see doing more with these new iBooks textbooks.
An iBooks textbook can include slide shows instead of just one static image. Each image potentially will offer interactive content. A student can tap the parts of an insect's body and be shown more information. Students can tap an image and show a slide show that shows more than just that one side view of the insect. They will see the eyes close up or the tentacles.
For geography class, imagine an interactive map of a country with more than just borders and cities. It will show information about the cities, like population or elevation all with one interactive map. Insert some HTML code to take them to a Google map of the city where they can view a 3D image of buildings and businesses.
In addition to slide shows, you can include videos, keynote presentations and JavaScript or html content for web-like interactive experiences.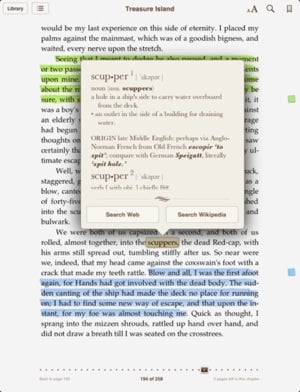 Search the books for content or use the cool glossary feature. Glossary words are highlighted and you can tap them to read definitions, see an index of word instances in the book, and view other interactive content related to the word.
To move around in the book you pinch to show the table of contents from anywhere in the book. Jump to the pages or to specific interactive content.
At the end of each chapter you might find an interactive Q&A section for review and learning. Make it a kind of quiz after the student reads and experiences the section. The Q&A can also include multimedia content.
To add margin notes, just tap a word or use your finger to highlight. The book organizes all of your highlighting and notes into cards ready for studying before a big test.
These new textbooks are available in a special Textbook section of the new iBooks 2 which you can download today. DK Publishing already has four kids books available. Other publishers supporting the format include Pearson, McGraw Hill and Houghton Mifflin Harcourt. They supply 90% of high school textbooks, according to Apple. Another group, E. O. Wilson Foundation, started creating a new book called Life On Earth. You can download two chapters of the book from within the app for free and get other chapters as they become available or a fee.
iBooks Author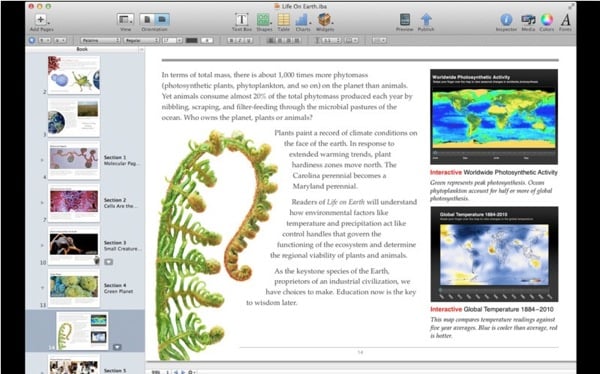 To create all of this, Apple announced iBooks Author, a Mac App available for free in the Mac App Store. It will let you create the iBooks textbooks in a WYSIWYG format, much like you create a Keynote presentation or a Pages document. Organize your text, multimedia content, and create the glossary words all from within the app. The app will also support inserting JavaScript and HTML 5 code to give students a web-like interactive experience from within the app.
When you finish creating your textbook, you can see a preview in iBooks on your own iPad. Then, publish it to the iBooks Store.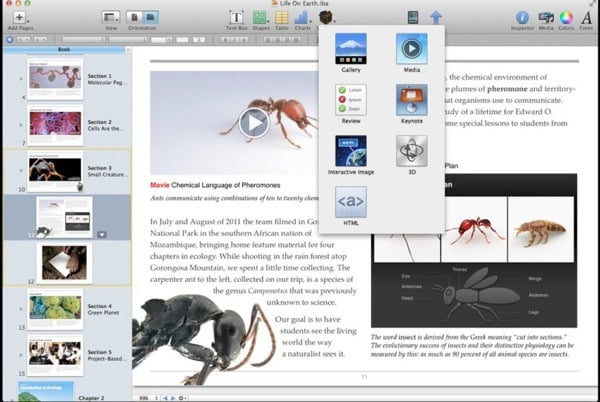 If you have all of your content already organized, Apple says you can make a book in about five minutes without knowing any programming or code. If educators adopt the new system, they could make their own textbooks for students, totally bypassing the publishers altogether.
Apple didn't give specifics on fees or how much you can charge except to say that all books will be $14.99 or less. They didn't say what percentage they would take if any. I assume it will be the same 30% they take for app transactions now.
The $14.99 price tag is a big savings over what textbooks cost now making it potentially worth the price of investing in iPads for schools. The books stay in the hands of the student even after they leave school meaning their's no book resale at the end of the semester, something publishers of college textbooks will like. Students will like that the books receive updates when new content becomes available from the publisher.
You can only use iBooks or the iBooks Author app with Apple hardware. Apple hopes everyone will adopt this ecosystem. If it catches on, Android tablet makers and Windows PC makers will struggle to compete in the education arena.
iTunes U App
A third app announced takes the iTunes U section of the iTunes App Store and rolls it into a separate free app. iTunes U lets students download lectures and educational podcasts for listening at their own leisure. The new app includes those lectures, either for download or streaming, but adds a few other features.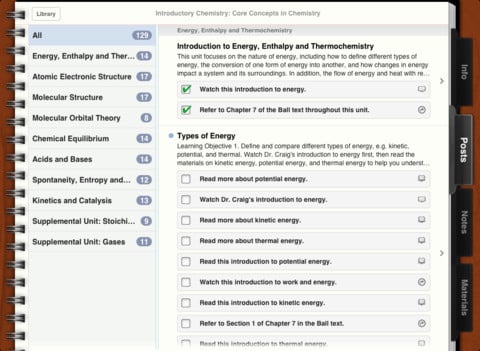 A teacher can set up a class that a student adds to their iTunes U collection. The app looks a lot like iBooks (see below).
Each class includes a syllabus, a teacher blog for communication with the students during the semester and announcements for things like office hours or assignments. If she links the course to a textbook in iBooks, then any notes you take in the textbook will also be available in the iTunes U app along with your highlights for easier study.
The app is available today for free.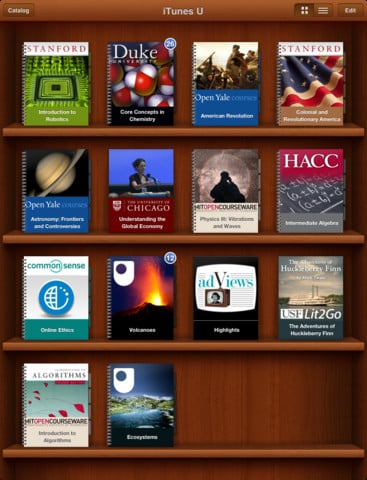 Up till now only universities could use iTunes U. Today Apple opened the service to K-12 schools as well. All of this comes at no cost to the user or to the content provider.