Apple and AT&T Still Facing Charges on iPad Data Bait & Switch
If you can remember all the way back to early 2010 when the iPad 1 first launched, you may remember a certain unlimited data plan that went along with the 3G model of Apple's tablet. It didn't take long for the iPad to make history, but it also didn't take that unlimited data plan long to become history. Apple and AT&T were then quickly sued for pulling a bait & switch regarding the data plans. Now, as Courthouse News tells us, a federal judge has refused to throw all of the charges out.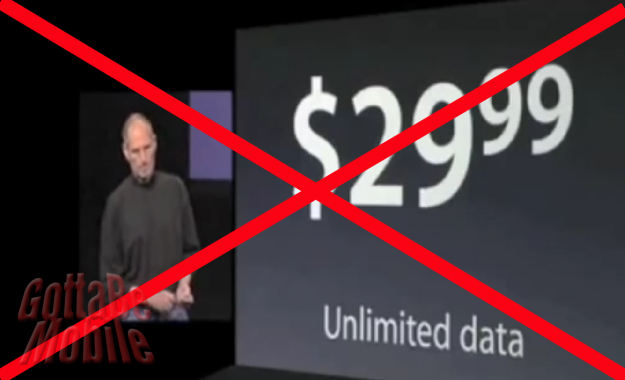 Lead plaintiff Adam Weisblatt said the following about why he's sticking it to them:
[Apple and AT&T] touted the availability of an unlimited 3G data plan and the option to switch in and out of the unlimited data plan, but subsequently withdrew the unlimited data plan option one month after Apple began selling the 3G-enabled iPad.
Of course there is no arguing that that is exactly what happened. Weinsblatt's reasoning behind suing for this is that customers would not have thrown down the extra $130 for the 3G model if they had known that the unlimited plans would be withdrawn so quickly afterwards. The argument is that Apple and AT&T had planned all along to axe the unlimited plans soon after, and only used them at launch to entice early buyers to flock to the pricier 3G model.
U.S. District Judge Ronald Whyte wrote in response to the charges:
The court finds that the specific information that [AT&T] allegedly concealed – that it would almost immediately be canceling the unlimited plan and denying customers flexible access to such a plan, and that this was its intention all along – is sufficiently set forth in the [complaint]
The judge did throw out several charges, but allowed the following to proceed: intentional misrepresentation, false promise/fraud, and negligent misrepresentation.
In case your memory of Apple's original iPad introduction is foggy, here's a short clip showing Steve Jobs describe the 3G data plans back in January of 2010:
It looks like the case will come down to whether the accusers can prove that Apple and AT&T intended all along to quickly remove the unlimited plans. If they did, this is classic bait & switch.
Despite Apple's having the best lawyers money can buy, it will be interesting to see them try to squirm out of this one. Anyone else seeing a big settlement in the works here?
via Electronista

As an Amazon Associate I earn from qualifying purchases.