Apple Announcement Yields No Hardware and iPhone Parity (sort of)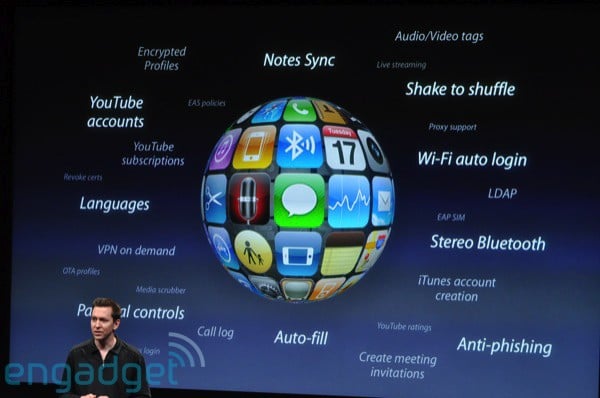 I missed all the live blogging on Apple's iPhone announcement today, opting instead to have lunch with some friends. Given all the frenzy about the annoucement it wasn't hard to catch up though. My quick thoughts on what I've read so far are that even though Apple is adding a lot to the iPhone 3.0 software, they are basically getting the iPhone's smartphone functionality up to par with other offerings.
For those who think Apple was tyring to outflank Palm and the Palm-Pre, I don't think Apple pulled off any real stunners and Palm still has an open door. (I personally don't think this was a part of Apple's plans, as I'm sure much of what they announced today as been in the works for awhile.)
Oh, and there was no Apple Netbook, or Apple Tablet under the rainbow. Nor was there mention of any new iPhone hardware. The Scots win again.
Essentially, Apple is adding some core functionality with Stereo BlueTooth,   peer to peer functionality, push notifications (but no background app processing), video and audio streaming, MMS, facility for Cut/Copy/Paste, some enhancements for the Calendar app, enhanced Search for all Apple apps -with a new homescreen that allows you to Search from there, and sync for notes. There will also be Turn by Turn GPS if developers bring their own maps, which in interesting because other apps will now be able to embed and use Google's Maps. These are just a few of the things I've picked up on and Apple says what it announced today are just some of the new features coming when the update is available in June.
It will be a free update for iPhone owners and cost iPod Touch owners $9.95, which follows a pattern that Apple should find a way to break some day. Older iPhone owners won't get to take advantage of the BlueTooth or MMS features.
As I said, Apple is adding a lot of new functionality in the next version. If I'm disappointed in one of the omissions it is voice dialing. One headline I read today I thought was very appropriate. It reads: Apple whips America into Frenzy by fixing iPhone's most glaring omissions. Couldn't have said it better myself.