Apple Back On EPEAT, Gets Gold Certification For Retina MacBook Pro
Recently Apple decided to stop using the EPEAT rating system to measure how environmentally friendly its products are. The company faced a lot of criticism over the change, and now it's backpedaling a bit.
Today Bob Mansfield, Senior Vice President of Hardware Engineering for Apple, posted a letter on Apple's website explaining the change. According to Mansfield, Apple never stopped making sure its products were environmentally friendly. In fact, Mansfield says Apple adheres to a higher standard than EPEAT's rating, and will now work with EPEAT to make it's ratings adhere to a higher standard, too.
Mansfield backs up his argument by pointing out that Apple was the first company to remove toxins like brominated flame retardants (BFRs) and polyvinyl chloride (PVC) from its products. Apple also removed all plastics from its products it could, replacing them with more recyclable materials.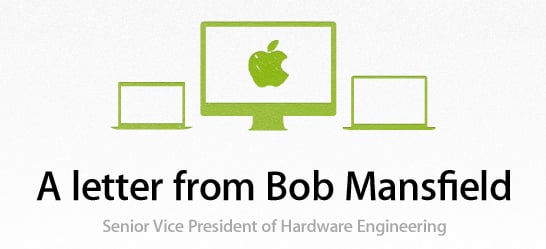 Apple also exceeds the U.S. government's Energy Star 5.2 standard on all its computers, which Mansfield seems particularly proud about.
As if to illustrate Mansfield's points, our own Sumocat found that today Apple received an EPEAT Gold rating for the new Retina MacBook Pro, and published it's own environmental report for the device. Despite the processes needed to make the new laptop incredibly thin, the new laptop still meets EPEAT's highest rating. The rating means the laptop meets all of EPEAT's required criteria, and at least 75 percent of the organization's optional criteria.
The Retina MacBook Pro receives full points in all the optional criteria aside from "materials selection," "energy conservation," and "packaging." Apple received no points in the former two categories, and a three out of four in the latter.

As an Amazon Associate I earn from qualifying purchases.