Apple Back to School Deals: $50 to $100 Back for MacBooks, iPads and iPhones
Today Apple started its annual back to school promotion, giving out gift cards to students and teachers who buy a new Mac or iPad for the upcoming school year.
The Apple back to school promotion gives out $100 App Store gift cards to students who buy a new Mac between now and September 6, 2013. The promotion applies to every newly purchased Mac from the 11-inch MacBook Air up to the Mac Pro. Apple only shows its selection of notebooks on the promotion page.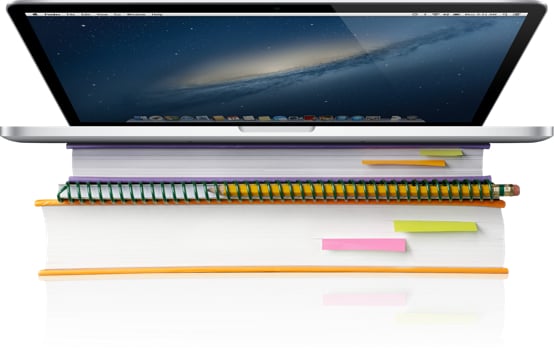 The gift cards will let users buy apps for their new Mac, though the gift cards also apply to the iTunes Store and the App Store. Users can use the gift cards on Mac Apps, iOS apps, music, movies or TV shows. Though it makes sense for new Mac users to buy some software for their new computers with the gift cards.
Apple will also give students a gift card for every new iPad, iPad mini or iPhone they buy from the Apple Store. The promotion offers $50 App Store gift cards for each iOS device (excluding the iPod touch) that students buy for college. Those gift cards apply to all of the same stores as the ones given to Mac users.
In addition to getting the $50 or $100 gift cards students save money by using Apple's education store. Apple makes new MacBooks slightly more affordable to students, knocking as much as $200 off each device. On the lower end the discounts are lower, but students can still get a base model 11-inch MacBook Air starting at $949, $50 less than the standard price.
Apple doesn't offer any educational discounts on iPad or iPhones.
Apple doesn't require a school email address to take advantage of the educational discount and promotion. Users just have to check a box saying they will use their new Mac or iOS device for school in some way. Theoretically anyone can take advantage of the deals if they want to.

This article may contain affiliate links. Click here for more details.