Apple Bans My Favorite Camera App for Hidden Feature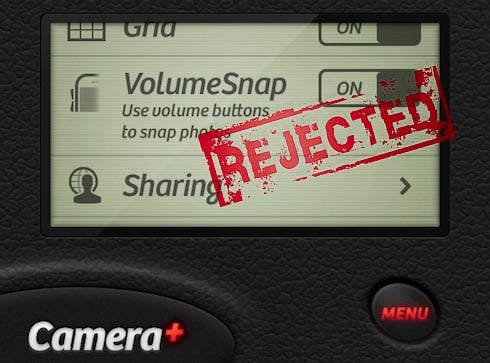 Apple's yanked Camera+ from its App store shortly after TapTapTap, a popular app developer, revealed a hidden feature called VolumeSnap. Visiting "camplus://enablevolumesnap" into Safari on any iPhone loaded with Camera+ turns the volume buttons into shutter buttons. This is a heck of a lot better than having to tap at the screen to take a photo. By using the volume button as a shutter release it's easier to hold the iPhone steady and to compose shots. It's also possible to take a photo with one hand. Users can hold down a volume button to take continuous shots.
TapTapTap had an update to Camera+ rejected by Apple when it originally introduced this feature, but enough users requested it that they apparently thought it was worth the risk. Here's the official description from the rejected update:
VolumeSnap ~ use your iPhone's volume controls to snap photos!

Using Camera+ now feels just like a real camera. Your photos can be sharper because you can now hold your iPhone steadier with two hands instead of fumbling around for the shutter button on screen.

In addition, you can plug your iPhone earphones in and use the volume buttons on them as a remote shutter control.
And here's Apple's reason for rejecting that update:
Your application cannot be added to the App Store because it uses iPhone volume buttons in a non-standard way, potentially resulting in user confusion. Changing the behavior of iPhone external hardware buttons is a violation of the iPhone Developer Program License Agreement. Applications must adhere to the iPhone Human Interface Guidelines as outlined in the iPhone Developer Program License Agreement section 3.3.7.

Volume Buttons—What Users Expect

Users use the device's volume buttons to adjust the volume of all sounds their devices can play, including songs, application sounds, and device sounds. Users can always use the volume buttons to quiet any sound, regardless of the position of the Ring/Silent switch.

Using the volume buttons to adjust an application's currently playing audio also adjusts the overall system volume, with the exception of the ringer volume. (Using the volume buttons when no audio is currently playing adjusts the ringer volume.)
That's right, iPhone users are too stupid to figure out if pressing the volume button, after intentionally enabling the feature, will take a photo or increase the volume of music that may or may not be playing in the background.
Fortunately, if you have a freshly updated copy of Camera+ on your iPhone you can enable VolumeSnap. It'll remain my primary iPhone camera app and I'll avoid updating it if it ever makes it back to the app store with the feature removed. My suggestion to TapTapTap: don't remove the feature from Camera+, create a new app so us loyal customers don't accidentally downgrade this awesome app.