Apple Begins Free Case Program: There's an App For That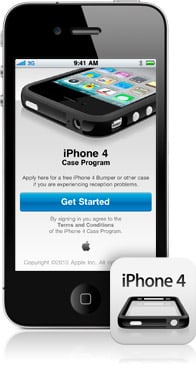 As promised, Apple is rolling out its free case program to deal with the fallout from the "Death Grip" or "antennagate" issue. Believe it or not, for some there's an App for that. If you're one of those who did not purchase a case, then you download the App, run it, and select a Bumper or available case.
If you purchased a Bumper, as I did, Apple is already starting to process refunds. My refund of $32.95 was processed as of yesterday. If you purchased a Bumper previously,  you are due a refund and depending on how and where you purchased a case there are different steps to go through to get your refund, so you probably want to check out the info on this webpage. You can also check the status of your refund from the same page.

This article may contain affiliate links. Click here for more details.