Apple Begins Sending iPhone 5 Tracking Status to Pre-order Customers
Those who had pre-ordered the iPhone 5 when pre-orders were made available and are guaranteed a delivery date of September 21 are now receiving more detailed tracking information from Apple and logistics partner UPS. This is the first time that Apple is sending out more detailed tracking information. Previously, users who had checked Apple's website for their order status were given information such as the fact that their phones are preparing for shipment or that their orders were still being processed. Now, that site will tell users that their orders have been shipped and will give users access to detailed UPS tracking.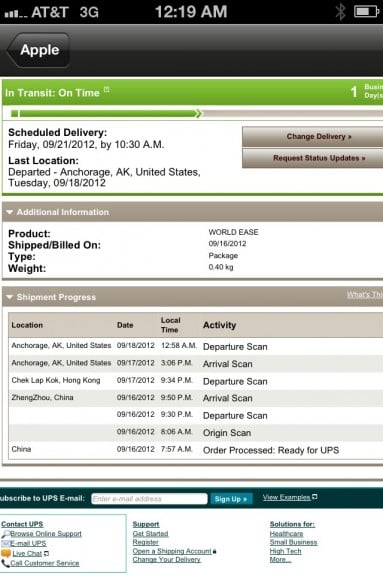 Logging onto Apple's order tracking website, I was informed that the iPhone 5 I had ordered for my family was was shipped from China, had gone to Hong Kong, and is now departing Anchorage, AK in the U.S. en route to be delivered to California. The UPS order tracking website says that the phone is scheduled to be delivered on September 21, matching what UPS had claimed that it was under embargo from Apple to not deliver shipments earlier than that date.
According to UPS, the phone is slated to be delivered on 9/21/2012 by 10:30 AM. Given that UPS has possession of roughly 2 million pre-ordered iPhones for all three major U.S. carriers, it's going to be a tight squeeze to get the phones out and into everyone's hands by 10:30 AM.
As with most Apple orders, signature is required for delivery so if you had pre-ordered, be sure to be present or have someone present to sign for your package come Friday if your package is scheduled to arrive.
Customers who had ordered with AT&T, Verizon, or Sprint should check with those carriers for specific shipping information.

As an Amazon Associate I earn from qualifying purchases.