Apple Black Friday 2013 Deals: Gift Cards Instead of Discounts?
Apple may not discount any iPads, iPhones or MacBooks on Black Friday as it has in recent years. Rumors are swirling that Apple will offer gift cards bonuses with select purchases on Black Friday.
According to unnamed sources that spoke to our friends at 9to5 Mac, Apple's Black Friday promotion will be decidedly different from other retailers.
Apple's sales event this Friday will be based around gift cards, not discounts on products. If a customer buys a product from Apple on Black Friday, instead of receiving a discount, they will be given an Apple Store gift card. This gift card will likely not be able to be used at the time of purchase, solely at a later date.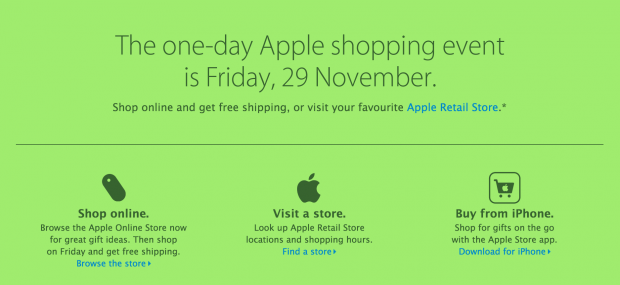 Apple is perhaps the only major electronics retailer that doesn't promote any of its Black Friday deals ahead of time. While Best Buy, Walmart, Target, and other have spent the past couple of weeks relentlessly spreading the word about their Black Friday, Apple's sent out a single mass email to its customers simply stating that it would have a "one-day shopping event" this Friday. Apple's email didn't mention common buzzwords like 'savings', 'discounts' or even 'Black Friday.' The only mention of any savings was free shipping for online orders.
Last year offered $101 discounts on Macs on Black Friday. Apple could perhaps throw in a $100 Apple Store gift card this time around with the purchase of a Mac. Smaller gift cards could accompany more affordable products, such as a $50 card with the purchase of an iPad Air.
Those looking for the absolute best Apple deals on Black Friday will want to shop somewhere else besides Apple.com and the company's retail stores. We don't expect Apple to match Target's iPad Air deal which is $20 off the $499 MSRP plus a $100 Target gift card. It would also be surprising if Apple came close to matching Walmart's $75 gift card with the purchase of a 16GB iPhone 5c or 16GB iPhone 5s offer.
While Apple may not offer the best deals on its own gear on Black Friday, at least everyone will get a chance to take advantage of its Black Friday offers. Most people won't be able to actually purchase Apple gear on Black Friday from other retailers at the advertised terms. Walmart, for example, only guarantees its iPad mini deal from 6pm to 7pm on Thanksgiving. Other retailers will only honor their iPad, MacBook and iPhone deals while supplies last.
You can see the best Apple Black Friday deals in the slideshow below:
Best Apple Black Friday 2013 Deals
iPhone Black Friday Deals
The iPhone Black Friday deals cut the price of the iPhone 5s and the iPhone 5c dramatically and gift card bonuses make things even better. Walmart offers the best iPhone 5s and iPhone 5c prices for shoppers who want a contract with AT&T, Verizon or Sprint.
The deal includes a $45 iPhone 5c and a $189 iPhone 5s and a $75 gift card. T-Mobile is offering an iPhone 5s for $0 down and $20 a month for 24 months and Sprint is offering $100 off for switchers.
You will need to sing a new contract for most of these deals and be eligible for an upgrade. Check out the rest of the iPhone Black Friday 2013 deals for other stores near you which may have similar offers. If you want the iPhone 5s without a contract, RadioShack offers an iPhone 5s on Virgin Mobile for $549, a savings of $100.

This article may contain affiliate links. Click here for more details.