Apple Black Friday 2013 Deals Revealed: No Discounts, Free Gift Cards w/ Purchase
Apple's in the midst of launching its Black Friday 2013 promotions around the globe. Unfortunately, Apple is not offering Black Friday discounts and is instead offering gift cards with select purchases. The gift cards can be redeemed at the Apple Store only and cannot be used for iTunes or App Store purchases.
Apple rarely discounts its iPhones, iPads, iPods and Macs to the general public, though it does regularly offer college students and businesses discounts. Last year Apple offered $101 off Macs on Black Friday and many were expecting Apple to repeat the offer this year.
Read: Best Apple Black Friday 2013 Deals
Apple isn't officially calling its gift card promotion a Black Friday event since it is offering the deals around the world. Though Black Friday is an American phenomenon, Australians are the first to benefit from the promotion.While the gift card amounts and linked items in the Apple store are advertised in Australian dollars, we expect them to translate over to U.S. dollars. We'll know with certainty once Apple officially launches its Black Friday deals on its U.S. online store in the wee hours of Black Friday.
Apple typically launches products, early ordering and promos based on PST since the company is headquartered there. That means those on the east coast will have to wait up until about 3am EST if they want to be amongst the first to take advantage of the deals. Unlike iPhone, iPad and Mac resellers, Apple is not likely to run out of any of its own items which means there's no need to rush.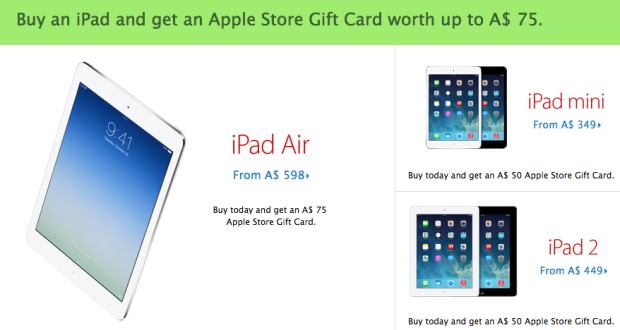 Apple's Black Friday iPad deals aren't as attractive as Walmart's and Target's. Those retailers are offering up to $100 in gift cards with iPad purchases on Black Friday, but quantities are limited and they are not available online. Apple is offering an $$75 gift card with the iPad and an $50 gift card with the iPad mini and iPad 2.
Apple is offering an $150 gift card with the purchase of any iMac or MacBook. That's a superb deal on the cheapest Macs, such as the $999 11″ MacBook Air since it amounts to a 15% discount. However, it isn't much to brag about on the high-end 15″ MacBook Pro, which costs up to $3,199 at retail depending on configuration.
Perhaps the best deal at Apple stores and Apple.com is the $50 gift card that can be had by purchasing the $249 iPod touch, effectively dropping the price to $199. The iPod touch is a superb Christmas gift since it offers many of the benefits of the iPhone without the messiness of gifting a device that requires a long-term wireless contract.
Read: iPod touch Review
The iPhone 5c and iPhone 5s are notably absent from Apple's Black Friday Australian landing page. Apple is however offering gift cards with its own accessories and third-party accessories.
Best Apple Black Friday 2013 Deals
iPhone Black Friday Deals
The iPhone Black Friday deals cut the price of the iPhone 5s and the iPhone 5c dramatically and gift card bonuses make things even better. Walmart offers the best iPhone 5s and iPhone 5c prices for shoppers who want a contract with AT&T, Verizon or Sprint.
The deal includes a $45 iPhone 5c and a $189 iPhone 5s and a $75 gift card. T-Mobile is offering an iPhone 5s for $0 down and $20 a month for 24 months and Sprint is offering $100 off for switchers.
You will need to sing a new contract for most of these deals and be eligible for an upgrade. Check out the rest of the iPhone Black Friday 2013 deals for other stores near you which may have similar offers. If you want the iPhone 5s without a contract, RadioShack offers an iPhone 5s on Virgin Mobile for $549, a savings of $100.

As an Amazon Associate I earn from qualifying purchases.