Apple Bumps Google in Favor of Bing for Spotlight Search
At the 2014 World Wide Developer Conference keynote Apple delivered a lot of information. One key announcement focused the bright lights on new Spotlight search features that illuminated some interesting mystery. As is typical of these events Apple explains some things from the stage but also raises questions about features and functionality that are left to be discovered after the lights have been turned out on the big keynote stage. One of the curious things astute observers were noticing as Apple demonstrated the new features of Spotlight was that some of the search results appeared to be coming from Microsoft's Bing. There wasn't much direct comment about that. There was no "powered by Bing" slogan tossed out from the stage.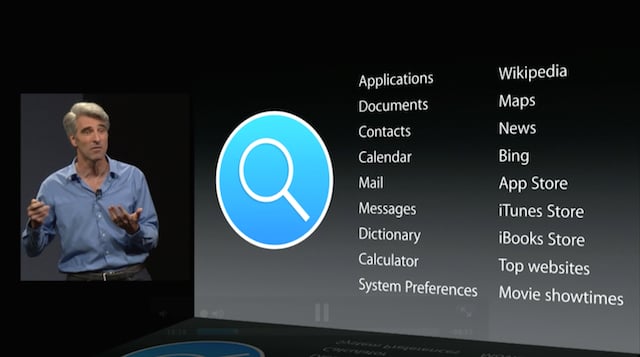 But, it appears that Spotlight search is indeed going to be powered by Microsoft's Bing. Danny Sullivan of the SearchEngineLand blog has confirmation from Microsoft that Bing will power Spotlight as the default search engine on both OS X Yosemite and iOS 8. Here's the quote:
Last year Bing became the default web search for Siri, and will now also be the default web search provider in the redesigned Spotlight search feature for the next generation of iOS and OS X. We're excited about extending the Bing platform to help iOS and Mac customers find what they need to get things done.
Apple has yet to comment officially on this. As the quote above indicates Bing first made its operating system debut on iOS with Siri last year. Users are able to perform a Siri search with Google by asking Siri to do so, but Bing is and will be the default.
Does this mean this is another slap at Google in the ongoing competition between Apple and its Android rival? Is Bing now delivering comparable enough search results in Apple's view? Or is Microsoft paying Apple to include Bing as the default? Or, as some are speculating, is Apple moving to make Siri its own search engine?
I don't think we'll see an Apple or Siri branded search engine anytime in the near future. Apple has enough on its hands with other chores. But Apple may indeed be pruning Google out of key parts of its searches in order to create an experience that users identify more with Apple than with Google.
Will it matter to users? For some certainly, but there was no great hue and cry or gnashing of teeth when Apple made Bing the default search engine for Siri. Of course that could be because Siri still hasn't become as integrated into enough user's routines to matter that much. For many Siri is still a party trick.
But also note that Apple is implementing a "Hello Google-like" feature with Siri. It is still unclear as to exactly how this works, but Apple quickly showed a "Hey, Siri" always listening feature for the iPhone during the keynote. And your iPhone will need to be plugged in to power or in a battery powered case for this to work. Currently Siri integration doesn't exist for the Mac. So, Apple has a ways to go to catch up to its rivals with Google Now and the beta of Cortana for Microsoft.
As Sullivan points out, Google search hasn't been banned from OS X yet. If you search from within Safari you'll still be seeing Google results. And some of the slides Microsoft put up featured Google search results. That said, the new Spotlight search features offer a way to move you slowly away from a typical browser-based search into one that is tied more into the operating system. Spotlight will return a variety of results from a variety of sources that makes it appear (from the demos) that you won't have to launch a browser to begin a search for some information.
For example, in the new beta for Yosemite, you can search and receive results for movie show times without having to open an browser or restaurant locations without first opening a browser. That's going to be new behavior for most. But it is probably a healthy behavioral change for both Apple and users as it gradually integrates less reliance on Google as a search partner, but still keeps it as a part of the mix. Why not deliver results from as many sources as possible?
What's intriguing about this context is that Apple has already taken one key piece of search away from Google on both OS X and iOS. That's Maps. Apple may have endured a rough stretch after the initial launch of Maps on iOS but the legacy of that launch disaster seems to be fading. The fact that searches on both mobile and desktop versions of Apple's hardware call up results from Apple Maps directly is something that newer users seem to accept without knowing (or possibly caring) where the results come from. Can I get there from here? That's all that's relevant. 
Apple is obviously making a play here towards search that doesn't feature Google as the default. With Maps, and soon Spotlight, featuring non-Google results as a default, Apple has removed two key pieces of the search equation from Google exclusively. And here's the thing. While there will certainly be some who prefer Google search results to any other, most users (and Apple always thinks in terms of most users) don't care which search engine is delivering the results as long as they are accurate and deliver the information they want.

As an Amazon Associate I earn from qualifying purchases.